Extension of the Atocha Railway Station in Madrid
Rafael Moneo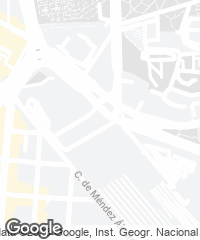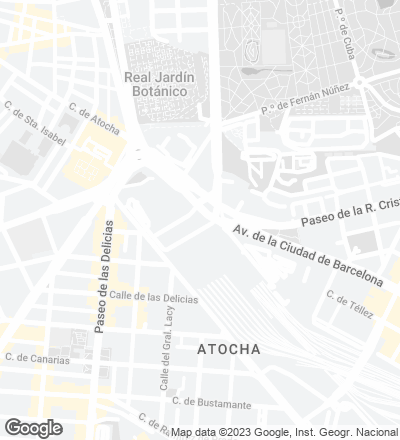 In 1983, an invitational competition was called to enlarge Atocha Station, which meant demolishing the Carlos I overpass, as well as the extension and remodeling of the historical roof, the creation of a local commuter train station, the construction of a bus interchange, and a parking lot.
The solution was to build a new access platform at the head of the station, reachable from the intersection of Calle Alfonso XII and Avenida Ciudad de Barcelona. Hence the layout of the entry points was inverted, turning the facade resulting from the marquee into the station's new entrance.
Moreover, the drop between this entrance and the train platforms contributed to the necessary separation between departures and arrivals, as well as defining the accesses to the station and the new interchange with different architectural solutions. The platforms were sheltered in a hypostyle hall, which underlined the obliquity of the railway in relation to the alignments established by the roof. The cylinder/lantern interchange is, on the one hand, a sign announcing the presence of the station to the city, making it easy for buses to turn, and on the other hand, a skylight enlivening and illuminating the local commuter train station, on whose roof the parking lot was located. The Atocha Station project was based on a strategy which gave priority to the idea of urban continuity. The validity of this strategy was confirmed when an extension was carried out not long ago, between 2007 and 2012.
The new high-speed train lines connecting Madrid with Barcelona and Valencia made it necessary to enlarge the station, where it would also now be easier to distinguish between arrivals and departures through two entrances at different levels. The objective was to allow faster and more efficient unloading of trains, connecting the access with the hypostyle hall of the platform extension. This hall's warped forms and the strong change of color – the metal structure is now painted white – establish a marked contrast with the first intervention, characterized by the use of concrete and the ceramic tones of the brick. This allows to identify the various stages of growth of a station that, on the other hand, includes several artistic interventions, like the intelligent and sensitive one by César Paternosto on the lattice truss of the new arrivals hall...[+][+]
Ampliación 1984-1992
Extension 1984-1992
Cliente Client
Ministerio de Obras Públicas y Transportes, RENFE
Arquitecto Architect
Rafael Moneo
Colaboradores Collaborators
ESTACIÓN DE CERCANÍAS FIRST STATION: José Miguel León, Emilio Tuñón (arquitectos architects); INECO, Euroestudios (consultores consultants); Fomento de Obras y Construcciones (contratista contractor); ESTACIÓN AVE AVE STATION: Emilio Tuñón, Javier Revillo (arquitectos architects); Javier Manterola, ESTEYCO (consultores consultants); Lara UTE/Construcciones y Contratas, Laing, Auxini (contratista contractor); RESTAURACIÓN MARQUESINA RESTORATION OLD CANOPY: Gabriel Ruiz Cabrero (arquitecto architect); OTEP (consultores consultants); Huarte (contratista contractor); REHABILITACIÓN MARQUESINA REHAB OLD CANOPY: Emilio Tuñón, Javier Revillo (arquitectos architects); Jesús Jiménez, TYPSA (consultores consultants); AZVISA (contratista contractor); BORDE URBANO URBAN EDGE: Emilio Tuñon, Javier Revillo, Eduardo Belzunce (arquitectos architects); ESTEYCO (consultores consultants); Fomento de Obras y Construcción (contratista contractor)
Ampliación 2007-2012 
Extension 2007-2012
Cliente Client
Adif, Ministerio de Fomento
Ingeniería Engineering
Ineco-Tifsa
Arquitectos Architects
Rafael Moneo, Pedro Elcuaz
Colaboradores Collaborators
Eduardo Arilla, Andrea García, Pablo López, Sumac Cáceres, Brezo Alcoceba, Tamar Loeb, Juanjo Farrés (arquitectos architects)
Superficie Floor area
152.000m²
Fotos Photos
Duccio Malagamba, Javier Azurmendi; Michael Moran/OTTO; Pedro Pegenaute