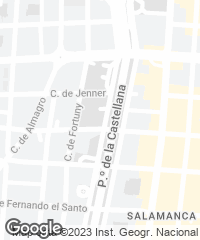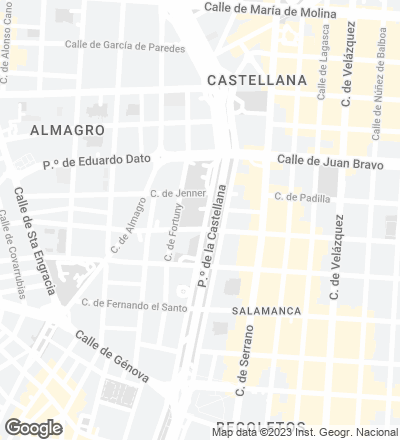 The bankinter headquarters go up by the palace of the Marquis of Mudela, a work of the architect Álvarez Capra, and it is the first case, in the process of transformation of the Paseo de la Castellana, where the building volume permitted by regulations was used up without demolishing the existing building.
The new building is a concise vertical brick sheet that becomes the backdrop to the existing villa, which was integrally preserved. While coexisting with the old one, the new volume acquires its own identity from the common entrance to both buildings on Marqués de Riscal street. This also allows the sharp corner to exaggerate the building's height. Furthermore, the granite slab pavement underscores the distance between one building and the other, so that both of them, placed on the grid, become autonomous objects.
Bankinter was the result of combining geometry and materiality. Rigorous geometry to address the perimeter, circulation, regulations. And the materiality of brick, true protagonist of the abstract pattern of the wall. It is precisely in the construction of the wall where the degree of knowledge that a professional must have of their discipline becomes evident. But building a wall is mainly about arranging the windows. The architects paid special attention to the windows, cut out vigorously thanks to the perfection of the lintels and sills, where the bronze dialogs with the edges of the brick masonry. The wall parallel to the Paseo de la Castellana is one of the most definitive features of a building that does not lose, despite its wide range of elements, the attributes of a whole.
The interaction between edges and planes, and the protagonism of the materials – oak-root panels, stone –, also define the interior, establishing a fruitful dialectic with the exterior. A dialectical interplay held up by the common geometry of oblique lines, as seen at the entrance, where the stucco painted by Pablo Palazuelo unveils hidden cues about the layout.
The perfection in construction, the effort to preserve the integrity of all the elements, and the range of responses to different demands were decisive goals in a project that, in view of the results, have at least in part been fulfilled. The inclusion of the naturalist bas-reliefs by Francisco López Hernández on the Castellana facade is a good example of this attitude of respect, because they become part of the architecture without undermining its identity...[+]
Cliente Client
Banco Intercontinental Español, Bankinter
Arquitectos Architects
Rafael Moneo, Ramón Bescós
Dirección de obra Construction supervision
Rafael Moneo, Francisco González Peiró, Ignacio Leco (aparejadores quantity surveyors)
Consultores Consultants
Carlos Fernández Casado (ingeniero estructuras structural engineering)
Arte Art
Francisco López Hernández (bajo relieve bas-relief); Pablo Palazuelo (frescos techo ceiling fresco)
Contratista Contractor
Fomento de Obras y Construcciones S.A.
Fotos Photos
Michael Moran/OTTO, Åke E:Son Lindman, Dida Biggi