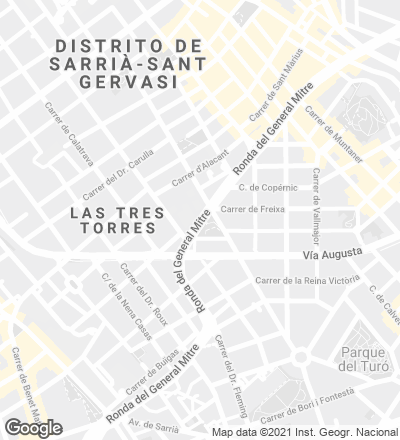 The old Sarriá stadium, which was home to the Real Club Deportivo Espanyol, took up a chunk of land between the Diagonal and the beltway that delimits the Ensanche (gridded 19th-century urban enlargement). Its demolition and the reassignation of adjacent sport fields have created a huge tract of buildable ground in a prime area of the city. One of the lots resulting from the reparceling, facing three unaligned prisms at the point where the ring road breaks off, is the site of this project. Trapezoidal and curved at the corner, it is bordered to the east by one of the broad sidewalks that characterize the public space of Barcelona. The commercial units which are to be accommodated at ground level will act as a further incentive to the public use of this street, which provides a shortcut between the above-mentioned main arteries.

On the grounds of the old stadium of Sarriá rise two housing blocks and a block of flats for the elderly with communal services. The development is completed with a cinema, commercial units and car parking.
Two square-planned towers offer conventional dwellings, while special apartments for elderly people – with communal dining, cleaning and medical services – line up to form a longitudinal block. Four underground levels occupying the entire breadth of the parcel encapsulate an extensive program. Two parking lots, a multiscreen cinema, store rooms and shops interweave in a complex system of three-dimensional relationships that only spills to the exterior with the terraces of the platform that closes the excavation. Different kinds of open space are laid out on this base: a small plaza on the north provides public access to the film screens, while two private gardens take up the center of the block and open southward, protected from the din of subterranean commerce.

The high density permitted by the guidelines is compensated for by the way it is materialized. An expression of lightness has the effect of blurring the built mass. All three blocks solidly close their north sides with a wall of stone, but their sunnier, south-facing elevations create a contrast. Through horizontal aluminum bands which exteriorize the rhythm of the floor slabs, these facades break up into many planes. The outer surfaces are glass parapets and sliding panels made of iroko wood. The wooden slatted flooring of the balconies reiterate the transparent and changing nature of this envelope. Inside, glass alternates with red stuccowork to close off the domestic space. A unitary building system does not necessarily result in uniformity. The residents can affect and alter the appearance of their building throughout the day, depending on their respective activities.
Cliente Client
Layetana M2
Arquitectos Architects
Jaume Bach, Gabriel Mora
Colaboradores Collaborators
B. Vidal (arquitecto architect); M. Martínez, G. Molas, A. Kammermaier, E. Cucurella, E. Tahull (estudiantes students); J. Gilabert, F. Roldós (aparejadores quantity surveyors)
Consultores Consultants
Robert Brufau (estructura structure); JG Asociados (instalaciones mechanical engineering)
Contratista Contractor
Comsa
Fotos Photos
Lluís Casals