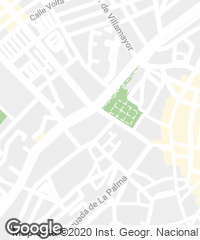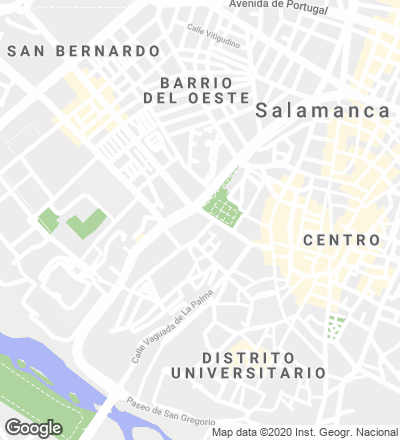 The Archbishop Alfonso de Fonseca ordered the construction in 1525 of a hall of residence to accommodate the noble Irishmen that went to Salamanca to study. The building, at scarcely four hundred meters from the main square, was extended in 1558 with the construction of a boarding house on the adjacent plot, also on the street of Fonseca. Both buildings, one of the main spots of touristic interest in the historic center, are linked to the University even now. The former is still hall of residence for students; the latter has been refurbished to house a center for courses, postgraduate studies and cultural activities.
The first decisions regarding the old boarding house were to demolish a lateral staircase and a bay that divided the central courtyard in two, as well as covering the lower level of the mentioned courtyard; the annex volumes – a cylindrical volume that contained the main lecture hall and an L-shaped piece on the corner of the streets Ramón y Cajal and San Vicente – have been preserved, but between these and the main building there now is a perimetral gallery with a glazed roof that, though imperceptible from outside, draws light into the circulation areas.
The hospice of Fonseca, a 16th century building linked to the student hall of residence of the same name, has been renovated to house a postgraduate center: exhibition halls, auditoriums and a library are part of the program. 
The two exhibition halls are located on ground floor – the larger one uses the four meter high space won under the courtyard and unfolds with the wall of the old school as backdrop – and two auditoriums, aside from the cafeteria and classrooms for different uses. The lectures are held in the smaller hall; the main auditorium, seating 460 spectators and with a 100 square meter stage, has an elevating platform which allows to move large musical instruments from the basement. A large window at the back of the stage allows to hold performances with natural light only. The first floor houses the school of ancient music, which can function independently thanks to an entrance on the sloping street. The musicians rehearse in the interior of a cylindrical volume, for which purpose the circular wall has been clad in convex walls that neutralize sound reflectance. The two upper levels – whose distribution adapts to the original arrangement of windows on the facade – houses the classrooms for courses and higher education.

An L-shaped perimetral gallery, covered by a continuous glass skylight, separates the newer buildings from the main volume. The cylinder that housed the main hall is transformed into a music rehearsal room. 
Granite has been used in the plinths and Villamayor sandstone for remaining walls, while in the interior the walls are finished with treated concrete, lime and wood plaster, and the pavements with mud, oak wood flooring and PVC.
Cliente Client
Universidad de Salamanca
Arquitecto Architect
Carlos Puente
Colaboradores Collaborators
J. M. Fernández Álvarez, J. A. Valdés Moreno, A. Alférez Aledo, R. Caro Martínez, L. Ferreira Villar, T. Martín Luengo
Contratista Contractor
Dragados; Ispania Restauraciones (aceites naturales de la madera wood natural oils)
Fotos Photos
Eduardo Sánchez