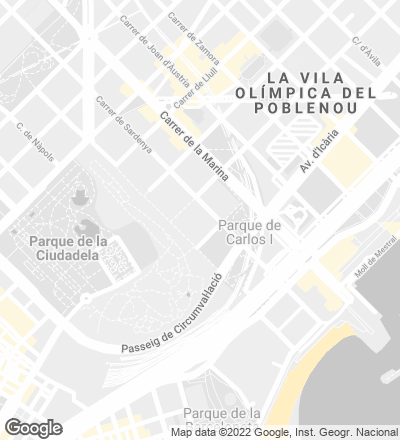 The intention to emphasize its role as a service to society inspired the foundation of the Pompeu Fabra University in the nineties, with an urban character that was uncommon to newly built campus. Installed in renovated buildings of diverse origin, the faculties are scattered in the center of Barcelona and are connected by the urban fabric in winding routes along the meeting point of the city and the sea. The remodeling of the Roger de Llúria barracks into a Law School has been added to the headquarters flanking La Ciudadela park, formed by the water deposits that have been fit out as central library and the Jaume I barracks.

A transparent atrium now replaces the small courtyards that previously divided the Roger de Llúria barracks; the large ceramic volume that takes up a block of the Ensanche next to La Ciudadela park.
The Roger de Llúria barracks were built by military engineers in 1879 on one of the first blocks of the Ensanche, following the guidelines proposed by Cerdá. A passage divides the block into a linear volume housing the dwellings and the barracks organized around several courtyards. To adapt the latter building to academic purposes, a few volumes among courtyards were removed, maintaining only the perimetral bay. The program initially foreseen – 24 classrooms for 120 students each – was extended in the course of the project with numerous department offices, when the decision was made to transform the building into the Law School building. To fit in all these areas, two linear volumes are inserted in the block courtyard, adopting a different configuration depending on the spaces they contain. The most transparent volume is also the larger one and houses six classrooms on each of its four floors. Small catwalks connect the classrooms with the corridor that surrounds the block court. Parallel to the classroom's volume, a narrower bay houses the offices behind a closed facade that confers a public space character to the atrium. A series of diagonally arranged skylights cover the central void to protect this meeting point from rain.

The renovation has tried to underscore the construction characteristics of the barracks leaving the masonry walls, the brick curb and the stone lintels that make up the enclosure at sight. The new construction distances itself from the preexisting with clearly differentiated materials. A frameless glazed curtain wall encloses the classrooms prism, while the more compartmentalized structure of the department offices is concealed behind a light facade of alternating horizontal bands of conventional windows and wood plank siding.

The classrooms are grouped in a glazed prism that faces the wooden volume which houses the professor's offices; the windows on the other two atrium facades correspond to the ring corridor.
Cliente Client
Universidad Pompeu Fabra
Arquitectos Architects
Josep Martorell, Oriol Bohigas & David Mackay
Colaboradores Collaborators
Carles Baguena; Enric Ribadulla, Carme Grau, Vicenç Font (aparejadores quantity surveyors)
Consultores Consultants
Carles Buxadé, Joan Margarit (estructura structure)
Contratista Contractor
Necso; Hilti (anclajes anchoring)
Fotos Photos
Duccio Malagamba