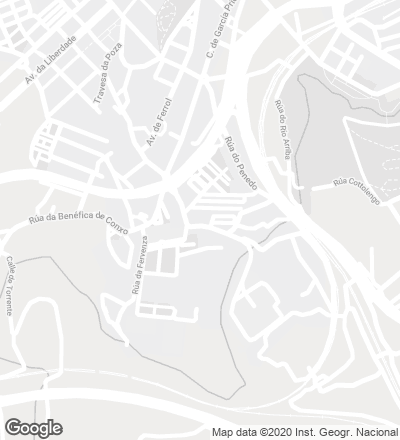 The project is based on two essential ideas: the first one springs from the conception of the place and of the building's process of topographic adaptation; the second entails a sense of efficiency, which in this case has to do as much with the speed with which the building must be executed as with the fact, strictly functional, that the resulting building may need to undergo variations in program over the years.
Taking these ideas as point of departure, the project proposes a building laid out in two parallel pieces separated by a large glazed courtyard. The first piece, resting on the higher area of the site, denser and more massive, is the volume that absorbs the terrain's unevenness and contains the access to the center, as well as all the uses that may be considered 'complementary' to the academic and other general activities of the building (control, administration offices and underground services and installations). The second piece, light and modular, goes up in the lower area of the terrain. Oriented towards the south, it orderly and smoothly gathers all the classrooms and workshops in such a way that these can be subdivided or brought together in accordance with the different needs and circumstances. Both pieces are interconnected by a series of bridges, of different widths, which hover above a landscaped surface dotted with trees. A wider piece, supported off by the two prisms and located next to the entry – to provide direct access from the exterior –, accommodates the assembly hall. The surrounding terrain thereby manages to sneak into the building in the form of an interior garden, taking on a referential and organizational role in the sense that it orders all the circulations of the complex and offers, especially from the higher floors, broad views of the nearby Monastery of Conxo.
The structure is the project's most important constructive consideration. The north volume is denser and the granite-clad concrete walls, some of them with a retaining function, play the leading role. But the south volume, lighter, is the one that takes on the task of pursuing a greater formal expressiveness through the structure. In this way, a series of profiles manufactured with thin steel plates – all galvanized and later screwed on following a meccano-like construction –, thus defying the slenderness limits, are built forming an independent 'external' shell upon which, once executed, the interior slabs rest. A clear tribute to Jean Prouvé.
Cliente Client
Xunta de Galicia
Superficie de actuación Site area
3.300 m2
Presupuesto Budget
3.100.000 euros
Arquitecto Architect
Francisco Mangado
Colaboradores Collaborators
Francisco Mangado, Gonzalo Alonso Núñez (dirección de obra site supervision); Ignacio Olite Lumbreras, Idoia Alonso, Ibón Vicinay, Arina Keysers, Francesca Fiorelli (arquitectura architecture); José Antonio Cerviño, Fernando Oliván (arquitectos técnicos quantity surveyors)
Consultores Consultants
NB35: Jesús Jiménez Cañas, Alberto López (estructura structure); Obradoiro Enxeñeiros (instalaciones mechanical engineering)
Contratista Contractor
Acciona Infraestructuras; Ocariz (herrajes ironwork); Akaba (mobiliario furniture)
Fotos Photos
Roland Halbe, Janet González Valdés