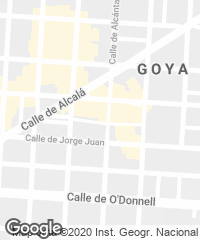 Salvador Dalí square became part of the city history in 1857 as 'secondary street', according to the 'Draft for the Expansion, Location and Distribution of the New Housing', by José P. Morales. In 1878 it was already conceived as a 'broad avenue', with the same dimensions it has now and that at that time served to give access to the crowds that went to the Goya bullring. Conceived and qualified already then as a 'promenade-living space', this area spurred the gradual development of the surrounding urban pattern.
The growing number of motor vehicles and the demolition of the bullring in 1945 (whose activity was moved to Ventas), totally transformed this area's appearance, even its name changed to Avenida de Felipe II. The original use of this space was in part recovered with the construction in 1969 of the Palacio de los Deportes, a sports pavilion that helped to redefine the boundaries and regain the old scale. The 1985 Plan turned this area into a landscaped garden and the space, in keeping with its new function – encumbered in part by the existence of a large underground parking – was named 'Plaza de Salvador Dalí', as it is known today.

The new scheme tries to define private environments that ensure good weather conditions and comfortable spaces during both summer and winter, the coherence of the whole being entrusted to the almost exclusive use (with different textures) of granite from Gredos. These private areas coincide with the sides of Antonio Mercé street and the end of Narváez street. The enlargement of the underground parking structure has allowed to highlight the role of the vegetation, with soil-filled containers that allow planting big species that grow horizontally (albicia julibrissi). 

The artist Francesc Torres has participated in the design of the square with cast-iron paving slabs with fossile motifs – mixed with those of granite –, a book fountain and bronze olive tree. 
The play areas for children, the plant stands and the fountain, all of them of trapezoidal form, define the small 'living areas' that emerge with their sloping surfaces over the continuous pavement of the square. 
The sides of these containers support wood benches, so providing sitting areas in the shade. The trees at the sides have been replaced with larger ones (liquidambar styraciflua) of great chromatic beauty during autumn. The accesses to the parking area, with a metal structure and silk-screen printed glass, emerge as flashlights that are illuminated from within. Two installations for children's play are placed at either side of the Palacio de los Deportes, leaving at the axis of the promenade the sculptural complex formed by a dolmen and Dalí's Tribute to Isaac Newton, that were both already there before the renewal. The book fountain, the millenarian olive tree and the cast-iron paving slabs mixed with the pavement are works of the sculptor Francesc Torres.  

Cliente Client
Comunidad de Madrid
Arquitectos Architects
Francisco Mangado; Francesc Torres (artista artist)
Colaboradores Collaborators
Ignacio Olite, Gerardo Mingo; Luis Pahissa, Pedro Legarreta (aparejadores quantity surveyors)
Consultores Consultants
NB35 (estructura structure); Iturralde y Sagüés (instalaciones mechanical engineering)
Contratista Contractor
Aldesa Construcciones
Fotos Photos
Roland Halbe; Miguel de Guzmán; Francesc Torres