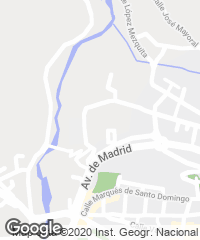 Ávila is a dense and intense city. Its layout, centered and delimited by the smoothly crafted city walls, confirms this perception. There is, however, another mineral and topographic density that exists in the magnificent landscape of granite rocks that try to emerge and that finally manage to do so in the artificial form of the city walls. Actually, Ávila itself is a rock amid the harsh landscape surrounding it. In such thickset contexts any clear space takes on an added value much related to the concept of contrast or of boundary and allows to free up interior space, and externally, to articulate the relationship with the city walls.
The steep slope of the terrain and the granitic subsoil – making excavation more complex – determined the three main guidelines of the project: conceptual density, generosity in the way of occupying space, and exploitation of the site's topographical features. The landscape studded with granite pieces, both formally and spatially, provided the references needed.
The center is proposed as a large esplanade or square at the edge of the city walls, its main level is matched up with the highest point of the plot, and its extension thus generates a large interior void that shall house, without excavation, the required uses. Towards the river the esplanade adapts with large polyhedrical folds to the lowest level of the site, thus preserving its character as elevated viewpoint. The building basically takes up the northern side of the new public space, delimiting along with the walls the new square. In keeping with the contours of the site, the project combines two different geometries: the most orthogonal and elongated space contains the auditoria and main halls, while the most precipitous and uneven one contains the exhibition spaces.
Construction is carried out in such a way that the location of uses is the result of occupying the space remaining between the new level of the access esplanade and the existing topography. Entry to the complex is clear and easy: the main auditoria are reached from the square and from the higher part of the seating area, which allows to get a quick grasp of the interior space; and the exhibition areas have an independent entrance from the incisions on the platform in the eastern boundary and, since all the different areas are connected under the square, they can also be reached from the interior of the building. The public accesses are all in the square, while the services are in the northern side.
Cliente Client
Ayuntamiento de Ávila, Junta de Castilla y León
Arquitecto Architect
Francisco Mangado
Colaboradores Collaborators
Jose Mª Gastaldo, Francesca Fiorelli, Daniel Padrón, Daniel Marchelli, Ana Gabriela Salvador, Arina Keysers, Anjte Konrad; Ángel García / PA Aparejadores (Luis Pahissa / Fernando Pahissa) (arquitectos técnicos quantity surveyor)
Consultores Consultants
NB 35, S.L: Jesús Jiménez Cañas, Alberto López (ingeniería estructuras structural engineering); Grupo JG: Enrique Monreal, Victor González (ingeniería instalaciones mechanical engineering); Higini Arau Estudi Acustic (ingeniería acústica acoustics); ALS Architectural Lighting Solution (iluminación lighting)
Contratista Contractor
Volconsa, S.A.; Sucomaga (piedra stone); Jofebar (carpintería metálica metal framework); Kingland (tabiques móviles mobile partition walls)
Fotos Photos
Pedro Pegenaute, Roland Halbe