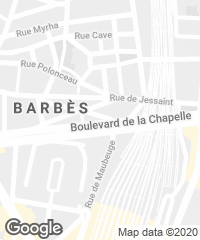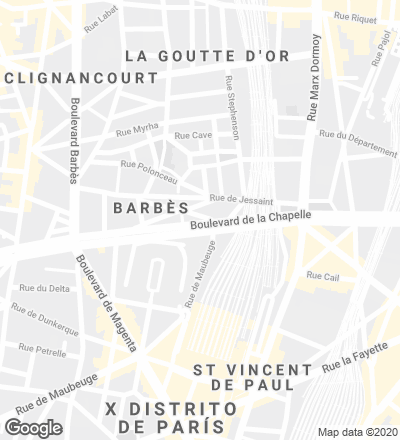 The project is located in a very dense plot, in the heart of La Goutte d'Or, a working-class district in Paris currently under rehabilitation, and which is a reflection of the immigration waves in the capital: first those of rural France, later those of Mediterranean and central Europe and, lastly, those of Africa. The plot is on the southeast angle of the neighborhood, between the chaotic and noisy Boulevard de la Chapelle and the calmer Rue de Chartres, two urban areas in clear contrast. The Boulevard de la Chapelle is one of the backbones of the city's east-west connection, characterized by the skytrain routes. For its part, the Rue de Chartres is one of the gateways from La Goutte to the center of the capital.
Two different programs coexist here. The first is a reception center offering assistance and education to reduce the risks of drug addiction. The second program includes small reinsertion housing units for ex-drug addicts. The challenge here is to build, on the same plot, two volumes that are separated according to their use. The project therefore becomes a vertical structure embedded in the surrounding fabric and characterized by a central void that separates the two programs in independent volumes. The basis of the project is this connection: a crack that favors the existence of a transition space between city and dwelling, between landscape and home.
The reception and reinsertion center takes up the first three floors, and an underground level contains dressing rooms and technical areas. The residences occupy from the third to the sixth floor, and are organized around an outdoor central circulation core, connected to footbridges that become spaces for social interaction. The apartments on the top floors have large panoramic balconies. The residences are accessed through Rue de Chartres, because this street is part of a more social fabric, more urban, on a human scale. However, the entrance to the reinsertion center, which should be more anonymous, is on the boulevard.
The existence of different urban fabrics and the positioning of the building determine the design of the elevations. A series of asymmetrically organized small openings provides the south elevation with solar protection while giving the facade a character that echoes the movements of traffic along the boulevard. A more organized language is given to the north side to allow light to enter the building while ensuring its harmonious incorporation into its surroundings. 
Arquitectos Architects
LAN (Local Architecture Network)
Colaboradores Collaborators
ADC (estructuras structure); Bethac (instalaciones utilities); CMB (supervisor surveyor)
Cliente Client
Siemp
Superficie construida Floor area
693 m²
Presupuesto Budget
1.500.000 € (PEC contract budget)
Fotos Photos
Julien Lanoo