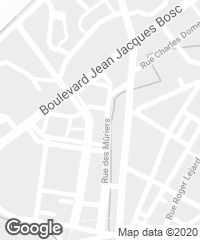 The project revolved around the idea of creating a hybrid between 'the house' and 'the apartment.' The building therefore had to meet the challenge of raising a collective residential block having the same qualities and advantages as a one-family residence, such as privacy, open-air spaces, and autonomy, but adding a large public space and excluding the environmental disadvantages of the isolated dwelling, including extensive occupation of land, visual and air pollution, and increase of need for infrastructures. For this, the typology chosen as a starting point for hybridization was the echoppe: a typical Bordelaise construction of flats stretching deep into it along a side corridor that leads to the principal space and the communal zones located beside the courtyard.
All in all, the project unfolds in the manner of a 'form in motion,' not as a finished process. It could in the future double its size, and thus also its density. In this way, within the built structure, residents will be able to enlarge their homes in accordance with the ever altering needs of the families. Such adaptability ensures the survival of the complex amid possible social and economic changes. The morphology of each of the units is derived from the desire to obtain a system that allows numerous variations and transformations, without technical impediments. All the apartment units, their floor areas varying between 25 and 130 square meters, benefit from cross ventilation and from an adaptable exterior space that opens in two or three directions, visually connecting the interior of the courtyard to the street outside.
Economy of means was a key element in the conception of the project. The entire project was carried out for 1,000 euros per square meter, very much below the average price in the region. This was possible thanks to a certain degree of formal sobriety, the rationalization of the proceses, the prefabrication of the facade elements, budget control, and above all the elimination of intermediaries between the builder and the user. On a constructional level, the structure of bidirectional slabs permits developing a light facade system which is high-performance, energy-wise, with two layers addressing different but complementary requirements: the first one, made of undulating metal sheets, reflects the color of the neighboring buildings and protects the interior against solar radiation; the second, formed by a layer of thermal insulation, guarantees adequate comfort conditions indoors.
Arquitectos Architects
LAN (Local Architecture Network)
Colaboradores Collaborators
Agence Franck Boutté (sostenibilidad HEQ consultant); Batiserf Ingénierie (estructuras structure); Michel Forgue (aparejador quantity surveyor); LBE (fluidos fluids)
Cliente Client
Ataraxia
Superficie construida Floor area
6.980 m²
Presupuesto Budget
8.000.000 € (PEC contract budget)
Fotos Photos
Julien Lanoo