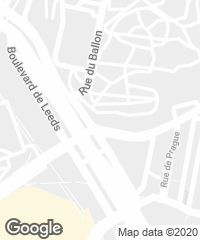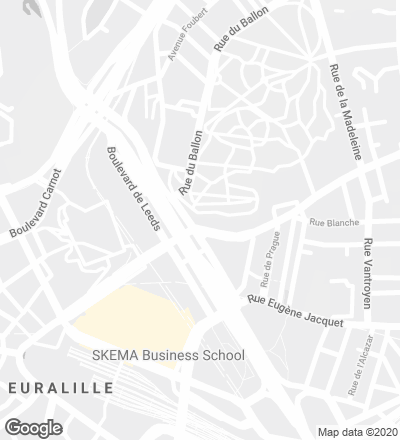 This building for office and retail spaces occupies the last free lot of phase one of Euralille, the urban project that Rem Koolhaas designed in the 1990s, coinciding with the French high-speed railway line's arrival in the city, and which started to go up in 1998. It works as a catalyst, activating the plans for redensifying the zone promoted by SPL Euralille, the public entity in charge of the project. Moreover, the project had to improve the connection between the new development and the consolidated fabric of the Saint-Maurice neighborhood, for years separated by train tracks and a ring road.
Taking advantage of the lot's strategic position, where various visual and circulatory axes converge, the building adopts the form of a small tower rising on a plinth; a tower whose plotting brings about a new civic space combining public and private, vertical and horizontal. Organized around a central core of concrete and divided into three parts, the tower is formed by a play of continuous bands covering the floor slab edges, and perforated floor-to-ceiling panes alternating with large glazed openings that give users inside a 360º panorama including the finest views of the city of Lille. These glass surfaces are laminated and given a special treatment to protect the interior spaces from too much sun and too much noise. The building's volumes vary to adapt to the different scales that make up the urban context: the one on the southwest forms a focal point that serves to visually connect the two railway stations; to the north, the ground floor plinth is aligned with the cemetery wall; and the volume located in the direction of Saint-Maurice adapts its scale to engage in a dialogue with the surrounding constructions and blend into the typical suburban fabric.
What is most unique about this project in terms of construction is the ventilated solution of the envelope, which is executed with pre-oxidized copper panels installed at 1.35-meter intervals and held in place by means of mullions of the same material, 15 millimeters thick and fixed to the inner load-bearing layer by steel anchors. While the glazed parts of the facade are protected by a lattice of copper mullions, the opaque stretches are equipped with rockwool insulation 20 centimeters thick and nuanced, in accordance with the direction being faced, with panels perforated up to 40%.
Arquitectos Architects
LAN (Local Architecture Network)
Colaboradores Collaborators
Egis (supervisor project supervisor); Act Environnement (sostenibilidad environmental consultant); IOSIS (ingeniería engineering); Elioth (fachada facade); Flandres Acoustique (acústica acoustics)
Cliente Client
Sogeprom, Projectim
Contratista Builder
SPIE
Superficie construida Floor area
3.475 m²
Presupuesto Budget
5.700.000 € (PEC contract budget)
Fotos Photos
Julien Lanoo