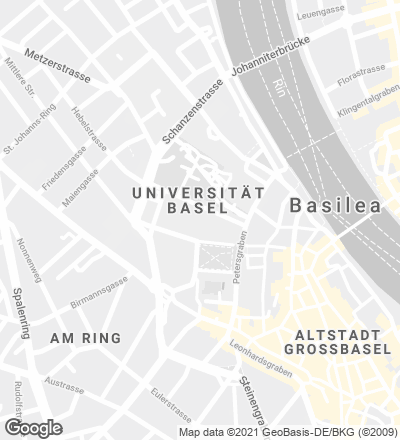 This competition-winning proposal is inserted in the irregular, organic universe of a courtyard hidden behind the terse alignment of the facades that run along Hebelstrasse. This intimate space, which is accessed through a narrow carriageway, features warehouses and small utilitarian constructions that have arisen at a rhythm defined solely by necessity along the walls that bound the site. Replacing one of the existing lightweight structures, the new building occludes the stone wall with a light, modulated construction. The three floors of apartments take up the cornice line of the adjacent block and so justify a change in material. The two lower floors in wood are capped by a storey of dark colored attic apartments that are set back from the main alignment of the edifice.
The succession of the building's six dwellings recognizes the linear structure, and is totally open to the south. The predictability of this succession is compensated for by a break in the line of the plan which serves to shorten it optically. The main body is clad in oak panels like a chest of drawers or a wardrobe, and converts the courtyard into a sort of inner room. This panelling is used to either cover the insulation, forming a back-ventilated facade, or to protect the glazing with window shutters that fold like mobile screens at the inclination of the occupants. The gallery which runs the entire length of the facade provides the dwellings an intermediate space between exterior and interior. Like a filter for the landscaped space, a rhythmic succession of hand-turned oak pillars defines its spatial limit. The column is treated here as part of a spatial installation, with a gently tapering shape that expands between the floor and the roof with neither plinth nor capital.
The partition wall shared with the building on the adjacent parcel of land largely bears the weight of the laminated wooden beams that form the structure. Where the height of this wall diminishes, the building is set back to leave a small courtyard with concrete stairs that provide direct access to the garden from the first floor. The top floor rises above the party wall. Although it adopts the modulation imposed by the wooden unit, its garden facade is fully glazed and the wooden pillars are replaced by metal supports. The few opaque panes at this level, concentrated at the headwall, are closed by grey fibrocement panels, providing a distancing from the lower volume and stressing the sprawled proportion.[+][+]
Client
Hochbauamt Basel-Stadt
Herzog & de Meuron Project Team
Partners: Jacques Herzog, Pierre de Meuron.
Project Team: Mario Meier (Project Architect), Michael Smoleniky.
Planning
Construction Management: Mario Meier; Structural Engineering: Helmut Pauli, Ingenieurbüro Schaub.
Contractors
Columns: Drechslerei Hans Bruni;
Wainscot: Schreinerei Maier.
Photos
Hisao Suzuki