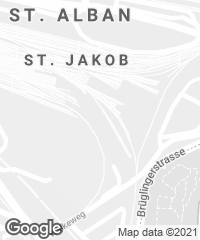 As part of the rezoning plan for the area of land surrounding Basel station, a new signal box has been built to provide a highly automated system of point switching. The compact tower form is largely determined by its functions and positioning; this abstract expression clearly identifying it against the heterogeneous surroundings of railway sheds, train tracks and the nearby wooded cemetery enclosure. While radically different in both function and nature, this unit has an indispensable counterpoint in the new locomotive depot, also designed by the studio, whose walls provide the necessary neutral horizontal backdrop.
Machinery and equipment occupy most of the building's five storeys – an aspect of the design not even hinted at by the front elevation. The concrete box that forms the interior-exterior boundary is transformed by a copper basket which gathers the linear structure of the rails in an envelope of continuous strips. Like a Faraday box, the outer basket protects the core from the electromagnetic field induced by the railway and provides an emblematic presence to this utilitarian construction. Controlling the tracks from computer terminals requires a dark working environment in which contact with the world outside is no more than a psychological necessity. Thus, in the areas around the windows, the basket twists its copper ribbons into horizontal strips which shade from the sun without interfering with the views of the outside. The graded daytime shadows produced on the facade by this mechanism in turn become a veiled transparency at night when the light source is inside and outlines the windows.
While these abstract metal facades are the expression of a highly technological centre, handcrafted techniques proved to be the more efficient method for their construction. A substructure of battens with small brackets was attached to the concrete core to hold the copper strips and support their gradual twist. The slightly rounded corner solution is a reference to the early idea of a core wrapped in wire like the coil of an electric circuit. The proportions of this signal box make it a landmark that converses with the towers on the skyline of the distant city. The striking character of the work will also take on a territorial dimension when a network of similar pieces spreads out over the length and breadth of the Swiss railway system with a frequency that will epitomize the density of this small country.[+][+]
Client
Schweizerische Bundesbahnen Hochbau Kreis II
Herzog & de Meuron Project Team
Partners: Jacques Herzog, Pierre de Meuron, Harry Gugger (Partner in Charge).
Project Team: Philippe Fürstenberger (Project Architect), Klaus Loehnert, Hans-Ulrich Suter.
Planning
Architect Planning: Herzog & de Meuron; General Planning: Proplaning AG; Construction Management: Proplaning AG; Electrical Engineering: Selmoni AG; HVAC Engineering: Sulzer Energieconsulting AG; Plumbing Engineering: Balduin Weisser AG; Structural Engineering: Proplaning AG; Architect Construction: Herzog & de Meuron.
Consulting
Facade Consulting: Tecton AG.
Photos
Margherita Spiluttini; Hisao Suzuki