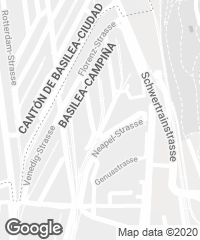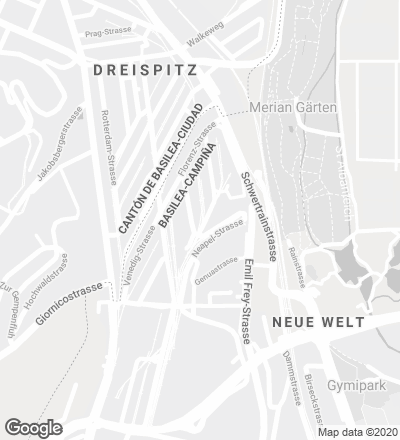 Helsinki Dreispitz, a project initiated and developed by Herzog & de Meuron, comprises an archive and apartment building on Helsinki-Strasse at the Dreispitz area in Basel. The Dreispitz, an urban site covering some fifty hectares, is privately owned by a single proprietor. Originally used as a goods warehouse and later as a customs depot, its development, governed by unconventional rules, has led to a fascinating hodgepodge of architectures and uses. In 2001 Herzog & de Meuron developed an urban study, proposing open-ended processes to reinforce the existing urban diversity while also allowing for a substantial increase in density. In the years to come, the Dreispitz is set to become one of Switzerland's most distinctive neighborhoods in terms of both typology and substance. The Helsinki Dreispitz building is more than just a house to store the Herzog & de Meuron extensive archives. Another vitally important factor was to produce housing that would infuse the neighborhood with new life both by day and by night, and though this will become a dense site, the apartments enjoy an exceptional panorama of the surrounding countryside of Bruderholz and the Brüglinger Plane.
The building consists of two stacked volumes, tapered towards the top. The distinctive shape ensures that the apartments themselves, and the neighboring buildings, have sufficient daylight. The facade of raw concrete is marked by the horizontal formwork of narrow wooden planks. Over the years, the rain running down the concrete will make the surface structure resemble the bark of a tree.
The lower part of the building houses not only the substantial archives that have accumulated since the establishment of Herzog & de Meuron in 1978, but also a collection of artworks acquired largely from artists with whom the studio has worked for many years, as well as a collection of historical photography. Until now the archives were stored in different places, making it difficult to source, organize and study them. All of these holdings are now under one roof in the Helsinki Dreispitz premises, which meet contemporary conservatorial needs and logistical requirements. Specially designed cabinets and display cases ensure that all of the models can be seen and easily revisited. Making them, or parts of them, accessible for research and study is one of various future scenarios.
Client
EG Basel Dreispitz
Client Representative: Rapp Arcoplan AG
Herzog & de Meuron Project Team
Partners: Jacques Herzog, Pierre de Meuron, Robert Hösl (Partner in Charge), Wim Walschap.
Project Team: Andreas Reeg (Project Manager), Marc Schmidt (Project Manager, Associate), Jan Ulbricht (Project Manager, Construction Supervisor).
Philip Albrecht, Liliana Filipa Amorim Rocha, Michael Bär (Associate), Janine Bolliger, Luis Guzmán Grossberger, Yuki Hamura, Carsten Happel (Associate), Volker Jacob, Martin Knüsel, Slavcho Kolevichin, David Pfister, Christian Schmitt, Fumiko Takahama, Katharina Thielmann, Christian Voss, Léonie Wenz.
Planning
Project Architect, Construction Management: Herzog & de Meuron; Electrical Engineering: Actemium; HVAC Engineering: Waldhauser + Hermann; Plumbing Engineering: Locher Schwittay Gebäudetechnik GmbH; Structural Engineering: ZPF Ingenieure AG; Building Ecology: Büro für Umweltchemie; Building Physics: Kopitsis Bauphysik AG; Fire Protection: Visiotec Consulting AG; Geometric: Amman AG.
Contractors
Sprinkler: Babberger Brandschutz AG; Lifts: Lift AG; Batter Boards: Xbau AG; Excavation: Rudolf Wirz Strassen- und Tiefbau AG; Shell Work: ARGE Implenia Bau AG and Spaini Bau AG; Roofing: Morath; Fire Alarm System: Siemens Schweiz AG; Fire-protection Doors: Jos. Berchtold; Electrical: Swisspro NW; Windows: Huber Fenster; Windows Housing: Schindler; Scaffolding: Lovecchio; Plaster Works: Canonica + Lotti; Heating: Alpiq InTec West AG; Cavity Floors: AGB Bautechnik; Wooden Shutters: Meier Villiger; Wooden Interior Doors: Dreier AG; Kitchens: Dreba; Ventilation: Alpiq InTec West AG; Paint Works: GP Maler; Metal Construction Works: Von Arx; Emergency Lighting Facility: Inotec Sicherheitstechnik (Schweiz) AG; Parquet Flooring: Britschgi; Slab Works: Ganter AG; Smoke and Heat Venting System: JOMOS Rauchschutz AG; Plumbing: Rosenmund Brandschutz AG; Switchgear: AZ Elektro AG; Locking System: Fritz Blaser; Carpentry: Tschudin; Steel Works: Preiswerk & Esser; Metal Gates: Meier Systems; Concrete Subflooring: J. Sigg AG.
Photos
Robert Hösl; Iwan Baan; Jacques Herzog and Pierre de Meuron Kabinett, photographs by Robert Hösl, photographs by Iwan Baan; Andreas Zimmerman; Andrea Diglas