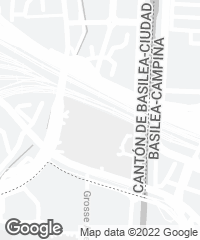 Located on the  end of the St. Jakob Park commercial, residential and sports complex, developed around the stadium of the local soccer team – whose design is partly by Herzog & de Meuron –, the St. Jakob Tower welcomes those who approach Basel by train or from the highway. This condition of 'gateway building' explains its desire to become a vertical landmark, set in contrast with the horizontal and topographic piece of the Mercedes-Benz showroom to the south, and which rounds off the intervention. The new Mercedes-Benz showroom slots easily into the urban terrain between the St. Jakob sports and events venue and the Birs riverscape. Designed as an open and transparent structure, its slabs form a continuous surface of three levels linked by ramps, which is also echoed in the folded roof of the building. Rising between the tower and the showroom, the elevated platform (6.10 m above the stadium perimeter level) is, like the existing facility, a key pedestrian circulation hub, a place to see and be seen, and in which it will also be possible to celebrate outdoor events. Located on the eastern front, looking towards the nearby town of Muttenz, this public space is modelled as an artificial topography marking off the sports and visitors' facilities while also creating a smooth transition to the revitalized Birs riverside area. The tower's massing responds to the particular features of the location, the occupancy types, the predominant visual axes and the shading situation. The building contains residential units, mainly on the southern elevation and upper tower levels, together with service-sector accommodation on the northern front. The 17-story tower reads as a crystalline glass volume fronted by layers of balconies serving the apartments. However, behind the strict line traced by the parapets of the terraces, the apartments have a glass facade of jagged geometry, generating recesses and projections that enhance and frame the views. For reasons of noise control (the motorway and railway lines are close by), the northern elevation is designed as a blank, unbroken facade. Constructively, the tower has a structural and services core in the center of its floor plan, as well as tilting steel columns around its perimeter. A sequence of reinforced concrete slabs completes the structure of the project.
Cliente Client
Implenia Generalunternehmung AG
Arquitectos Architects: Herzog & de Meuron
Socios Partners: Jacques Herzog, Pierre de Meuron, Wolfgang Hardt (socio responsable partner in charge), Stefan Marbach.
Equipo de proyecto Project team: Fabio Felippi, Gabi Mazza, Sarah Righetti (arquitectos responsables project architects); Ida Basic, David Brodbeck, Mariano Ciccone, Yuko Himeno, Kasia Jackowska, Sunkoo Kang, Michel Kehl, Thomas Keller, Hiroshi Kikuchi, Bernhard König, Pawel Krzeminski, My Long, Roman Sokalski, Louise Souter, Douwe Wieërs, Thomasine Wolfensberger, Camillo Zanardini
Planeamiento Planning
Implenia Generalunternehmung AG (planeamiento general general planning); Herzog & de Meuron (planeamiento arquitectura y construcción architect and construction planning); WGG Schnetzer Puskas Ingenieure AG (estructura structural engineering); PGMM Schweiz AG (coordinación consultorías, instalaciones consultant coordination, HVAC, plumbing, mechanical engineering); Scherler AG (electricidad electrical engineering)
Consultores Consultants
Neuschwander + Morf AG (fachada facade); BAKUS Bauphysik & Akustik GmbH (física de la construcción, acústica building physics, acoustics); Burger & Partner Ingenieure AG (geometría geometrician); Jauslin & Stebler Ingenieure AG (ingeniería civil, tráfico civil engineering, traffic planning); Gruner AG (protección antiincendios, seguridad fire protection, safety)
Contratista Contractor
Balintra AG, Kestenholz Basel AG, Genossenschaft Stadion St. Jakob-Park
Fotos Photos
Duccio Malagamba; Ruedi Walti