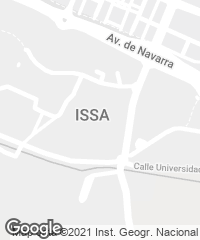 Located in the University of Navarre campus of Pamplona, the building will be the definitive headquarters of the School of Economics and Business. With a large number of classrooms and halls adapted to current teaching methods, it goes up by the Law School building, to which it is linked through several accesses. Both buildings will share spaces, means and students and are closely connected to the point that they share the only outdoor access and their main circulations are linked on every floor. Furthermore, the large classrooms of the Law School building are complemented with new halls of different sizes for lectures and seminars, more reduced and adapted to the guidelines established in the Bologna Accords. The new building also had to include a large number of research rooms for teachers to develop their research work and offer personal counseling for students.
The new building in  the Pamplona university campus goes up right  by the Law School volume. Though their exterior finishes are very different, both buildings share accesses, several spaces and students.  
Most of the program is distributed on the lower ground and first floors, which extend in the whole of the occupied surface. The ground level reaches a greater height at specific areas of the ground floor, which gives access to the building. The creation of large multipurpose lobbies gives the students open, varied and informal workspaces. For its part, the basement houses installations and extra space for future needs.
The internal organization of the building wishes to be eminently rational, for which it is based on an orthogonal geometry and the regular repetition of patterns and alignments of rooms and building elements. The large covered central courtyard is called to take on a crucial role, because everything happens around it: activity, space and circulations. 

The building follows the main alignments of the Law School volume, adding a new shared facade on the southern side, the exceptional length of which gives the open field perspective. It is conceived as a facade with a serial structure and rhythmic expression, coherent with its scale, which is built wih a system of prefab concrete elements, placed as large vertical louvers that filter the views and act as sunshades for those stretches of the elevation that are marked by their desire to provide transparency.
The outer image of the building, protagonized by concrete and glass, is rounded off with several metallic claddings, opaque or more or less permeable. The key role of exposed concrete is justified by its sober and solid character, in tune with the image of the neighboring buildings.
Cliente Client
Universidad de Navarra
Arquitectos Architects
Juan M. Otxotorena Elizegi
Colaboradores Collaborators
Gloria Herrera, Catalina Delgado, Jorge Ortega; Oihana Ojanguren, Alberto Ochoa, Pablo Medarde; Isabelino Río, Ignacio Quintana (aparejadores quantity surveyors); Gorka Visiers, Ignacio Quintana, Óscar Lacruz (dirección de obra site supervision); Juan José Ruiz del Pozo, Rafael Callejo, Carlos Fernández-Bandera (gestión de proyecto project management)
Consultores Consultants
José Ignacio Etayo, FS Estructuras: Fernando Sarría (estructura structure); AM & Asociados, Ana Moreno, NAVEN Ingenieros, Architectural Lighting Solutions (instalaciones mechanical engineering)
Contratista Contractor
VDR Construcciones
Fotos Photos
Rubén Pérez Bescós