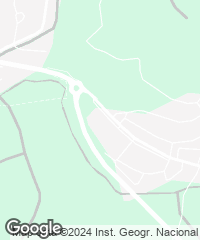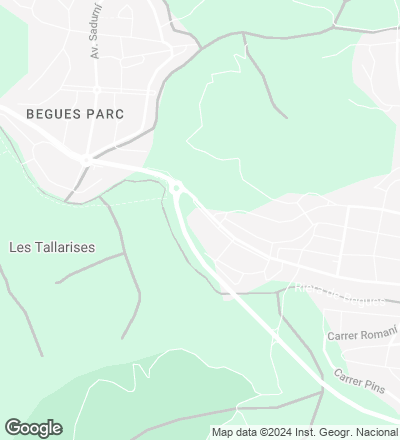 Located to the southwest of the Baix Llobregat county, in the province of Barcelona, Begues is a large municipality of wooded landscape that covers most of the Garraf Massif. It is very close to the capital, so its population has increased significantly, almost tripled, over the last two decades. This increase has made it necessary to build additional community facilities, like this new high school. The site assigned for the project is located at one end of the town; a triangular plot that is surrounded by the Begues roundabout and an industrial complex.
Its deep slope and the many pine trees on the plot determined the essential design decisions. The volumes and platforms that compose it are staggered to adapt to the terrain and are fragmented with the desire to preserve the largest number of trees, maintaining them in the open space between buildings, and tying the complex to its site.
The wooded landscape where this high school goes up has determined both how the volumes are articulated as well as the exterior appearance, defined by the greenish tone of the precast concrete facade panels.
Access is through the Camí Ral (name given to the main public path before the road was built), located in the most elevated part of the site. At this point the building breaks the alignment with the street, separating itself from the sidewalk and taking advantage of the topography of the site to create a gathering place and an access. The center of this square is presided by a tall pine tree, which stresses the importance of this space that organizes the arrival and exiting of students, and that becomes a gathering place before and after class.
The program is distributed in two differentiated volumes: a main volume of three levels that contains the teaching program, classrooms, workshops, library and administration areas; and a second one-story volume with the gym and dressing rooms, kitchen and dining hall, and other facilities. A small canopy joins the two volumes there were they come closer together, signaling the access to a sequence of indoor courtyards of different sizes and at different heights.
The buildings are completed with a semi-prefabricated concrete structure, with reinforced concrete pre-slabs and self-bearing double T plates. The facade treatment, for its part, becomes a unique aspect of the complex. The use of precast enclosures, dyed with a mixture of green and black tones, achieves a texture that makes the building blend with the landscape of pine and oak trees.
To adapt to the sharp topography of the plot, the project creates several platforms, placing on top of them the two buildings, one for the ewducation program and the other one accommodating the auxiliary spaces. 
Cliente Client
GISA
Arquitectos Architects
Emiliano López, Monica Rivera
Colaboradores Collaborators
Franco Bechis, Bruno Bechis; AT-3 Oller-Peña (aparejador quantity surveyor)
Consultores Consultants
BIS Arquitectes (estructura structure); PGI (instalaciones mechanical engineering)
Contratista Contractor
Marsein
Superficie construida Floor area
3.945 m2
Presupuesto Budget
5.591.832 euros (PEC)
Fotos Photos
José Hevia