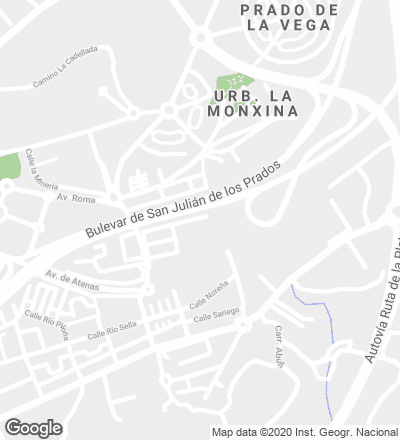 Taking the orthogonal arrangement of the school's other buildings as a reference, the canteen tries to connect with all of them while solving the problem of vehicular access from the parking lot.
The new volume, with its rectangular floor plan and its prismatic form, is given an envelope of profiled metal plate, with the edges curving to soften the building's visual impact on the landscape. Downspouts, drainpipes, and contact between the facades and the roof are in this manner avoided, facilitating the maintenance of the dining hall.
Because the Guillén Lafuerza School needed the facility urgently, the deadline for execution of the project was very tight. The solution put forward was prefabrication, with the main volume subdivided into four prisms which, to adapt to the topography of the terrain, rest on a concrete wall and on a series of pillars of laminated steel of different heights.
The dimensions of the openings in the enclosure were determined by working out a balance between natural light entering and the possible energy losses; and their positions by the orientation of the building, the scale of the future users, and the views of the surroundings from inside.
The unique tube shape of the envelope and the chromatic uniformity of the interior of the pavilion – where a bright warm yellow tone strikes a sharp contrast with the gray of the metal skin – together try to give the building an atmosphere of its own within the complex, one which the the schoolchildren are bound to perceive as a welcoming shelter.
Obra Work
Comedor escolar School Canteen C.P. Guillén Lafuerza in Oviedo.
Arquitectos Architects
Miguel Ángel García-Pola Vallejo.
Colaboradores Collaborators
Enrique Mendívil (arquitecto técnico building surveyor); Javier Fuente (estructuras structures); Fernando Díaz (instalaciones installations).
Fotos Photos 
Marcos Morilla.