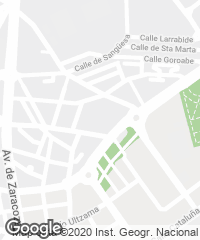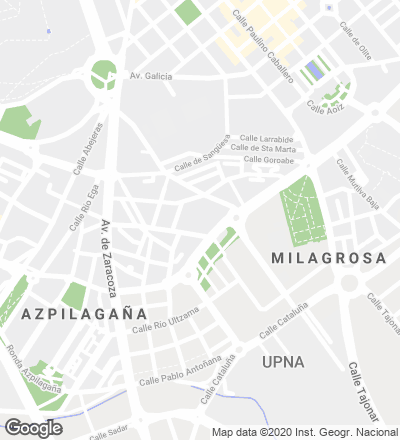 The value of the place was the determining factor when designing this elementary school. The plot became available after reorganizing the site, located on the edge of a peripheral neighborhood of Pamplona. Its almost triangular geometry is composed of two sides adjoined to the party walls of the rear part of a residential building, while the third side, of greater dimensions and facing south, opens up to a large square. The extreme conditions of the plot imposed two main priorities: collecting sunlight and devising a functional scheme of uses. The proposal is therefore constituted as the plinth of the existing building, to which it is attached with its concrete perimeter, asserting its presence as an abstract, orderly, modular and bold piece towards the square.
The program has five educational modules, a large communal and organizing space that is also a covered playground for when the weather doesn't allow using the two outdoor courtyards, aside from administration areas, services and installations. The classrooms are placed along the only exterior side of the plot to guarantee sunlight and views, while the rest of the program adapts to the characteristics of the site, reserving the two ends for playground. The building uses these and other interior courtyards and horizontal skylights for daylighting and to ensure ventilation in a very deep plot with a single facade. Aside from bringing light inside, the skylights improve the image of the party walls towards the square, while the courtyards, for their part, enhance illumination and contribute to generating a private atmosphere in each educational module.
Constructively speaking, the building is characterized by the prefabricated concrete elements. On the one hand, the ribbed slabs permit a fast execution and generate versatile spaces with large spans, and, on the other hand, the facade latticework characterizes the exterior appearance and serves as protection, controlling sunlight and bringing greater privacy to the classrooms. Lastly, and in terms of sustainability, the school uses geothermal systems for clean energy and turns the roof into a landscaped surface that improves the building's thermal inertia and reduces its visual impact amid the surrounding residential buildings. 
Cliente Client
Ayuntamiento de Pamplona
Arquitectos Architects
Carlos Pereda y Óscar Pérez
Colaboradores Collaborators
Teresa Gridilla
Contratista Contractor
Construcciones Guillén
Fotos Photos
Pedro Pegenaute