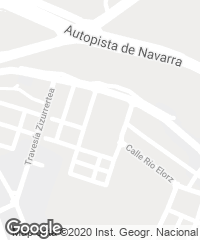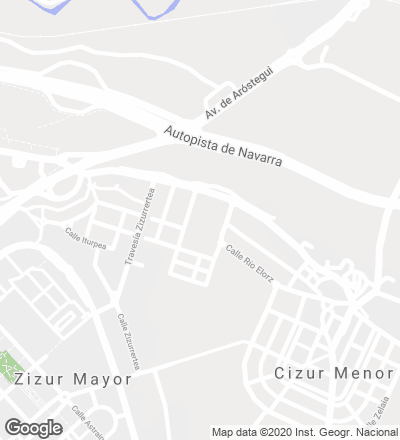 The town of  Cizur Menor, that is linked to the neighborhoods of the south of Pamplona by the Camino de Santiago, enjoys impressive views of both the Navarrese capital and of the surrounding mountain tops thanks to its raised position. In the last years, this small area has seen how the town's growth has reached its boundaries. There where the urban fabric of the upper area begins to sprawl on the hillside stands the Miravalles school, sister of a previous and already consolidated private education center, which it comes to extend with 36 classrooms – for all grades of pre-university education –, laboratories and workshops.
Visually linked by the horizontal line of their openings, the prisms with the classrooms and the sports facilities take up the hillside according to their programmatic needs and to create an integrated system of exterior spaces.
Laid out towards the south, this building takes up a plot that is buried two meters with respect to the level of the access street, next to which is the parking area for school buses; and from a marked horizontal volumetry it establishes an order by which it seizes the encircling semi-rural landscape. Two volumes articulate the complex over the smooth slope: the sports pavilion is dug out of a lower level, further away from the road, blurring its presence between the sky and the ground with an industrial sheet finish; and the main volume, which houses the classrooms, lies on the higher part of the terrain and stands out from afar thanks to its white parging finish, leaving the playground to the slope beside it. This horizontal prism is articulated around four open courtyards and five blocks of equal dimensions, linked to the collective spaces by a double-height lobby. The porch of access constitutes the fifth courtyard, formed by the overhang of the volume on the first floor. Two prismatic pieces rise over the roof to bring light into the chapel and the central corridor.
With a white parging finish, the volume of the school opens to the outdoor spaces through large windows, skylights in the circulation areas and courtyards that are combined with blocks of classrooms.
The horizontal proportion of the complex is accentuated by the landscape windows pierced on the side walls of the classroom building, and by the subtle incision that runs along the middle of the facade of the sports pavilion. Extending the cornice line of the school, this narrow slit illuminates the court with a thin thread of light. For their part, large continuous windows, cut out of the steel sheet cladding, guide light into the study areas on the west facade. Towards the east, two ramps link the courtyards to the exterior playground areas; along with these structures, the facade composition – with openings of different sizes, white slats and red wood window frames –, offers a dynamic backdrop to the recreational activities of the students.
Cliente Client
FEISA
Arquitecto Architect
Juan Miguel Otxotorena
Colaboradores Collaborators
Enrique Moreno, Carlos Naya, Daniel Gimeno, Íñigo Hernández, Vicente Bono (arquitectos architects); Ignacio Visiers (aparejador quantity surveyor)
Consultores Consultants
ATECO (estructura structure); Andrés Bustince (instalaciones mechanical engineering)
Contratista Contractor
Construcciones ACR; Heraklith (falsos techos ceilings)
Fotos Photos
J. M. Cutillas/Proyectar Navarra, Hisao Suzuki