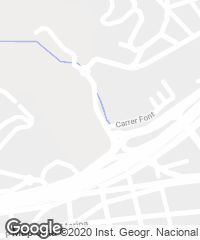 The characteristics of the lot – elongated and slightly sloping – determined the choice of building type for this school where there has been an endeavor to give priority to how the users are to relate with the exterior. The program is distributed in two volumes: one rising on the south end of the site and housing the preschool; the other on the north and addressing primary education needs. Between both wings is the core of the complex, containing the dining room and kitchen, administration zones and the main entrance. Completing the program are several exterior pieces: a sport gymnasium, classrooms, a playground courtyard and a porch graduating the transition between outside and inside.
With the idea that in educational facilities of this kind it is important to guarantee construction quality with very limited budgets and tight deadlines, industrialized building solutions were adopted. The size of the bay and optimization of the floor space allowed recourse to a structure of prefabricated reinforced concrete – pillars and large-span main beams that support alveolar plates – and panels of architectural concrete nuanced with a sgraffito that, in allusion to the building's function, is composed of a random mix of letters of the alphabet.
Obra Work
CEIP Josep Guinovart Jose Guinovart Primary School in Castelldefels (Spain).
Arquitectos Architects
Felipe Pich-Aguilera Bauier, Teresa Batlle Pagès (Equip Arquitectura Pich-Aguilera).
Colaboradores Collaborators
V. Milanés, A. Sendarrubias, P. Casaldáliga (responsables de grupo team leaders); U. Müncheberg (responsable de proyecto project leader).
Fotos Photos
Simón García.