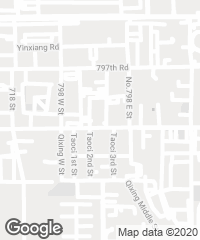 The M Woods Entrance Revitalization is an urban renewal project in the 798 Art Zone of Beijing. The site was originally an abandoned industrial warehouse and then started functioning as an art museum from 2014 onwards. The museum management decided to renovate the facade and entrance in order to refine the visiting experience and provide the museum with a more recognizable public image.
The primary strategy was not so much to reform the existing facade but to add a new light and transparent layer that would give visitors a sense of the old when they experience the new, and read the historical details of the city. The project had to be implemented from design to completion within 40 days, and this was possible thanks to the building solution based on self-supporting galvanized steel mesh. In addition, the translucency and reflectivity of the metal mesh made the entrance facade more vibrant and lively.
The project also revitalized a green belt which was enclosed by a fence across the street. This space was opened up, creating a small plaza covered by a canopy made of the same metal mesh material as the entrance, unifying the surrounding space with the museum.
Obra Work
Renovación del acceso al Museo Woods M Woods Entrance Revitalization
Cliente Client
M Woods
Arquitectos Architects
Vector Architects / Gong Dong (socio partner); Dongping Sun (director de proyecto project architect); Chen Yinxi Lu, Kun Ding (equipo team); Dongping Sun (dirección de obra site architect)
Colaboradores Collaborators
Lixin Ji (estructura structure)
Fotos Photos
Xia Zhi