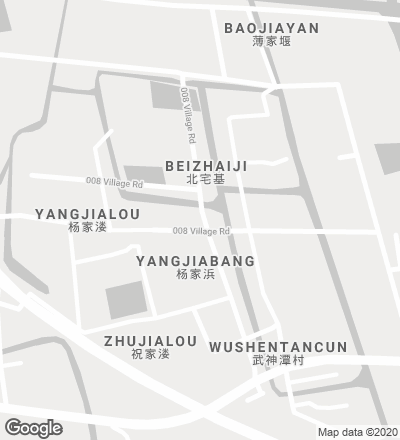 Located in an ecological farm alongside the Yang Cheng Lake in Kunshan, not far from Shanghai, the project consists of four small-scale public buildings, the most important ones being the Harvest Pavilion and the visitor center.
The Harvest Pavilion, the first to be completed, is flat and vast, with a sense of being wide open to the sky. In contrast to the congested vertical density of urban living, this flat emptiness is an essential character of the site. The project's task is to integrate architecture into such a context in a manner that creates a new and unique space, yet harmonized with nature. The harvest pavilion presents itself as a light, simple, and translucent cuboid, with a horizontal thin plane hovering at the top, parallel with the distant horizon. The plane, made of pre-fabricated aluminum rods, cantilevers out at various depths on all four sides.
The visitor center contains a multi-functional activity space, a pet dormitory, and a house that has been converted into an office. The architecture is seen from the farm side as two horizontal translucent screens. The first screen is made of perforated cor-ten steel, the corrugation reinforcing the material and safeguarding the supporting stud system at the back. The second screen surface is made of wood louvers, with a corridor behind it that connects the three major programs of the building. Both surfaces allow wind and light to penetrate and do not block the view in or out. These translucencies harness the light with sensitivity, subtly shifting the architectural image with the different seasons.
Obra Work
Prototipos agrícolas Eco-Farm Series
Cliente Client
Kunshan City Investment Company
Arquitectos Architects
Pabellón de la cosecha Harvest Pavilion: Vector Architects / Gong Dong (socio partner); Feng Xu (director de proyecto project architect); Nan Wang (consultor project advisor);
Centro de visitantes Visitor Center: Vector Architects / Gong Dong (socio partner); Nan Wang (consultor project advisor); Zhimin Zhou, Xiangdong Kong, Feng Xu, Ran Huo (equipo team)
Colaboradores Collaborators
Yuangui Design Institute (estructura structure)
Superficie Built Area
150 m² (Pabellón de la cosecha Haverst Pavilion)
280 m² (Centro de visitantes Visitor Center)
Fotos Photos
Xia Zhi, Su Shengliang