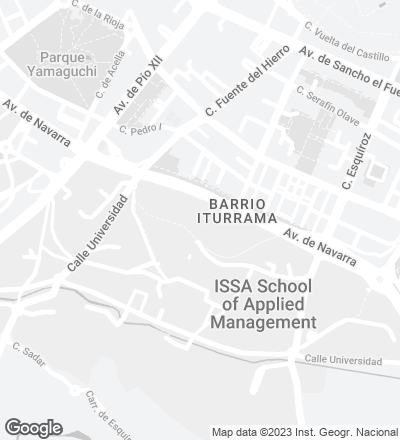 The project for the new Museum University of Navarre started out with the donation of the art collection of María Josefa Huarte – daughter of the Navarrese entrepreneur Félix Huarte Goñi –, who promoted the construction of a center to display these works together with the university's photography collection. The scheme also includes other social spaces with the objective of fostering research, education, and the dissemination of art and culture: an auditorium seating 750 spectators, two workshops, two screening rooms, offices, and storage areas, adding up to a total of 11,000 square meters.
Located near the city, the building is embedded in the ground to face the university campus head on, occupying a spot that was previously peripheral  but which, with this project, takes on a new central position.
Located at the northwest end of the university campus in Pamplona, the museum sets itself apart from the remaining campus buildings and approaches the city, inviting everyone to become part of the new art center and bringing new life to an area that was previously empty. This location affords panoramic views of the campus's gardens with El Perdón mountain range as backdrop. The museum breaks up into three-story volumes nestled in the hollow ground between two hillocks, so the new ensemble merges smoothly with its environment and minimizes its presence.
The different spaces are laid out along a corridor, shifting at the midpoint that separates the exhibitions area and the auditorium. The dimensions of the exhibition rooms, rectangular in shape, are determined by the artworks themselves, so twists and transitions occur in the interstitial spaces. The interior of the theater, in spite of its large seating capacity, manages to keep an intermediate scale, halfway between public and domestic, which pervades the whole building.
One of the most distinctive elements are the horizontal louvers that break the continuity of the blank walls and bring light into the exhibition halls through a second skin of alabaster. The facade consists of two concrete layers, one structural and the other cladding, connected by stainless steel form ties. To create a warm atmosphere, the white cement bond is mass dyed in earthy tones and sandblasted to give the surface a rough texture. The basalt of the pavements and the oakwood of the ceilings and claddings round off the basic palette of materials, which are combined in a sober and harmonious manner, in keeping with the architectural line of the University of Navarre.
Cliente Client
INMUDENSA, Juan José Ruiz del Pozo, Gorka Visiers Elizaincín, Javier Manrique Escolá
Arquitecto Architect
Rafael Moneo
Colaboradores Collaborators
Blanca Hernández García (arquitecto a cargo del proyecto project architect); Rubén Hernández Fernández, Isabel Moneo Lara, Fernando Iznaola, Angel Huertas Suances, Pablo López, Mathew Bennet (arquitectos architects); Amaia López (aparejador quantity surveyor)
Dirección de obra Construction supervision
Rafael Moneo, Blanca Hernández García.
Manuel Blasco (asesor a la dirección de obra construction consultant); Pedro Legarreta Nuin (director de ejecución construction manager)
Consultores Consultants
Raul Escrivá/OPERA Ingeniería (estructura structural engineering); Francisco Barrios/INARQ Ingeniería (instalaciones mechanical engineer); Higini Arau (ingeniería acústica acoustic engineering); Iñaqui Pérez/NASERGES (coordinación seguridad y salud safety consultant)
Contratista Contractor
VDR Mutilva, Paula Martínez, María Saldise (jefes de obra construction managers)
Superficie construida Floor area
10.990m2
Fotos Photos
Duccio Malagamba, Pedro Pegenaute