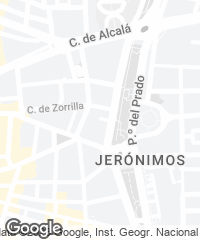 The Villahermosa Palace was built in the 18th century, and in 1771 ownership was transferred to the Duke of Villahermosa, who commissioned reforms to several architects, though finally Antonio López Aguado took charge. After the Spanish War of Independence, the main entrance was moved by way of a spacious garden to the north facade, which stuck to the typology of the existing openings, though such order did not extend to the floor plan. In 1973, the López-Quesada banking group acquired the property and carried out reforms under the direction of Moreno Barberá, who eliminated the interior wall system and moved the entrance back to Carrera de San Jerónimo. But soon after the termination of the works López-Quesada fell into a serious financial crisis, and in 1980 the Bank of Spain bought the building. When negotiations with Baron von Thyssen commenced, the palace served as a decisive argument for the Spanish government.
The new program was clear enough. It was a matter of making room for a collection, of extreme variety, of almost 800 paintings. From the beginning the idea was for a museum adapted to the architecture of the old palace, but providing the services stipulated in the contract for the temporary cession of the collection. It was first deemed that the main access be through the garden on Calle Zorrilla, with the aim of recovering the north facade and providing the museum with a quiet entrance. This meant reorienting the palace and rebuilding it with the facades as only guides. Thus, the new floor plan is on a late episode in the evolution of the palace. Behind this facade now is a deep hallway, which becomes a void at the first-floor level and a patio on the second floor.
The desire to preserve the facades led to strictly respecting the existing wall system on the north side; to establishing a perimeter corridor on the Paseo del Prado facade, but raising a whole new wall system perpendicular to it (thus providing for the smaller halls required by the program); and to intervening on the Carrera de San Jerónimo facade, where the largest hall is located. The wall system is completed with an exterior wall, which closes the construction generated by the facades and yields an open space: a courtyard that becomes the center. The voids produced by this system of walls adjust to the rhythm of the facade openings. The general concordance between facades, access, courtyard, and interior wall network is an attempt to decipher the hidden message behind the contained geometry of the Villahermosa Palace...[+][+]
Cliente Client
Fundación Thyssen-Bornemisza
Arquitecto Architect
Rafael Moneo
Equipo Project team
Luis Moreno Mansilla, Emilio Tuñón, Belén Hermida (arquitectos architects)
Dirección de obra Construction supervision
Rafael Moneo, Vidal Gutiérrez de Sande (aparejador quantity surveyor)
Consultores Consultants
Ove Arup & Partners, Esteyco (estructura structure); Ove Arup & Partners, J.G. Asociados (instalaciones mechanical engineering)
Contratista Contractor
Entrecanales y Távora S.A.
Superficie Floor area
18.000m²
Fotos Photos
Michael Moran/OTTO, Ana Müller; Colección Carmen Thyssen