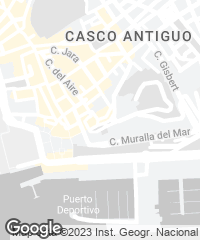 The discovery of the ruins of the Roman Theater of Cartagena unveiled an exceptional monument, making it hard to understand how, given the scale of the ensemble, it remained concealed for centuries. The use of a section of the stage as a market during the Roman period and the partial superimposition of Santa María la Vieja over the upper part of theater reveals the complex concatenation of different periods that have turned this part of the city into a true history book.
The value and variety of the pieces found in the excavation brought the opportunity to provide the city with a Museum of the Roman Theater that, planned as a series of publicly accessible spaces, would also incorporate the Riquelme Palace, a building begun in the 19th century, and the Church of Santa María la Vieja, so that the theater would function as the last and most noteworthy piece in the ensemble. Furthermore, and complementing the works aimed at reincorporating the old theater into the city, the intervention added the Parque de Cornisa. The relationship between these two architectural components shows the civic character of the project, attentive to the structuring of the public spaces in the city.
The intervention incorporates and connects buildings and voids via a promenade that spans the considerable difference in height between the port and the theater. The museum is thus set out as a promenade that goes from the sea to the upper levels, culminating in the unexpected emergence of the imposing space visible today in the excavated cavea. This promenade goes through exhibition spaces illuminated by a complex system of skylights. Along this itinerary, a series of mechanical elevation systems, both stairs and elevators, function as the frames of the pieces found during the archaeological excavations.
The museum is housed in two independent buildings, connected by an underground corridor. The first, which includes the bays of Riquelme Palace, is organized around an impluvium-like courtyard. The second one houses the exhibition halls, as well as the elevation systems up to the level of access to the corridor under Santa María la Vieja (+17.01), which leads visitors to the theater. The promenade ends at the theater through the cavea corridors and steps, to prevent visitors from walking around the seating area and protecting the archaeological site, excavated in the slate rock from Cerro de la Concepción...[+][+]
Cliente Client
Fundación Teatro Romano de Cartagena; Comunidad Autónoma de Murcia, Ayuntamiento de Cartagena, Fundación Caja Murcia
Arquitecto Architect
Rafael Moneo
Colaboradores Collaborators
Juan Manuel Nicás (arquitecto a cargo del proyecto project architect); Carla Bovio, Ángel Huertas Suanzes (arquitectos architects); Santiago Hernán, Antonio Martínez (aparejadores quantity surveyors)
Consultores Consultants
NB 35 Jesús Jiménez Cañas (estructura structural engineer); Úrculo Ingenieros (instalaciones mechanical engineering)
Superficie Floor area
17.000m² (intervención urbana, teatro y museo urban intervention, theater and museum) 
Fotos Photos
Duccio Malagamba