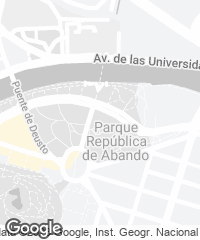 The buildings of Deusto University have always played a leading role in the shaping of the left bank of the river estuary, testifying in this way to the institution's commitment to serve the city. For over one hundred years, Deusto has been not only the cradle of many Bilbao professionals, but also the unique protagonist of the cultural life of the city; for this reason, the buildings that Deusto University has along the ria are particularly important.
Located on the left bank of the estuary of Bilbao, across from the Guggenheim Museum, the library of Deusto University goes up as a free-standing building with a soft translucent skin of glass blocks. 
Though the location of the site and the urban configuration may seem propitious, the truth is that the ambivalence between the dimensions of an urban block and those of a free-standing building turn this project into a complex one. If on top of all this we add the imposing presence of the Guggenheim Museum, the difficulties will be more easily understood. On the one hand, the new building should not compete with the well-deserved protagonism of the museum; on the other, it should express its public role and establish the desired continuity with the university. And these two factors were not to keep the building from going up as a separate entity in the park, with a life of its own.
These premises, difficult to combine as they are, would prompt the architect to choose a material like glass block, which was convenient because it did not compete with the bright titanium of the Guggenheim and because it allowed to create a gentle transition with the park. This material creates a monolithic and neutral monochrome volume that melds gently into the park. The rounded corners are perhaps the most relevant architectural feature, giving the building the appearance of an autonomous, solid mass. The corners as sharp edges were eroded by orthogonal facets that, thanks to their being transparent, create a lively contrast with the translucent glass block. If to this we add the alluring lantern-like presence of the library at night, one can understand why the architect has been seduced by this material's potential.
The building is a translucid solid, but the distance it establishes with the Guggenheim is reduced when one observes how much the museum has determined the orientation of the library, which subtly looks towards it, paying courteous tribute when offering its lively volumetry as backdrop in the reading rooms.
The university library is slightly oriented towards the nearby Guggenheim Museum, which makes its way into the reading rooms through large fissures cut out of the soft continuous enclosure. 
Cliente Client
Universidad de Deusto
Arquitecto Architect
Rafael Moneo
Colaboradores Collaborators
Valerio Canals Revilla (arquitecto a cargo del proyecto project architect)
Consultores Consultants
Santiago Hernán (aparejador quantity surveyor); NB 35 Jesús Jiménez Cañas, Alejandro Bernabeu (estructura structural engineering); Úrculo Ingenieros + PGI (instalaciones mechanical engineering); Juan de Dios Hernández & Jesús Rey
Contratista Contractor
Construcciones Amenabar
Superficie Floor area
19.000m² (útil net area); 25.000m² (construida gross area)
Fotos Photos
Duccio Malagamba