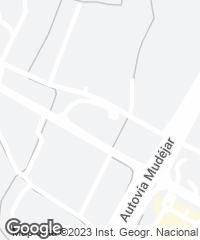 Convinced that painting a landscape is a way of making space one's own, José Beulas, a genuine representative of Huesca painting, dedicated most of his life to reflecting the sobriety of Aragón's countryside on canvas. This landscape becomes the most important aspect when designing the foundation that carries the artist's name and treasures his legacy. The new building sits on a cultivated field traversed by an irrigation channel, in the plot adjacent to the artist's house and studio. The desire to preserve the atmosphere where the Beulas's lived prompted to maintain the old paths, irrigation channels, and structures, merging the new ones with the existing context.
Inspired by the form of the nearby rocky outcrops known as Mallos de Riglos, and as if heralding another massif, the new undulating volume rises from a reservoir-pit which, aside from collecting rainwater, gives the piece a certain insular character. The sinuous volume is accompanied by a series of pieces housing the different elements of the program – exhibition spaces for temporary shows, administration areas, storage, cafeteria, shop, restrooms, and cloakroom – which help to configure a cracked and fragmented perimeter that emphasizes the scale of the main volume. The rest of the program is below ground. The basement houses the archive, meeting room, and complementary spaces for exhibitions, and the service areas occupy a lower level.
The main exhibition space, located 2,45 meters below the entrance level, is delimited by concave and convex lines in contrast with the orthogonal geometry of the interior subdivisions. Access is through a descending ramp flanked by two undulating walls. A characteristic feature of the hall is the luminous ceiling formed by a system of practically self-bearing trusses that hold only the glazed roof, and which filters sunlight. Two windows allow keeping contact with the exterior, with farmlands on one side and foothills on the other. The room's large size and the lighting system provide increased flexibility.
The structure consists of three reinforced concrete walls with an electrowelded mesh and a composition of coarse aggregate, white cement, and mineral additives that produce a color resembling that of the nearby mountains. These walls support a two-way reinforced concrete slab measuring 60 centimeters in thickness, on which the skylight trusses rest.
The walls support a massive slab of reinforced concrete measuring 60 centimeters thick. On top of it rests a structure of metallic louvers forming the skylight that bathes the exhibition space in an even light. 
Cliente Client
Fundación Beulas
Arquitecto Architect
Rafael Moneo
Colaboradores Collaborators
Rafael Beneytez Durán (arquitecto responsable project architect); Rafael Moneo, Rafael Beneytez Durán (dirección de obra site supervision); Andrés Bitrián, Vicente Pérez (aparejadores quantity surveyors); Estudio Rafael Moneo (maqueta model)
Consultores Consultants
NB 35, Jesús Jiménez Cañas, Eduardo Gimeno (estructura structural engineer); Rafael Úrculo (instalaciones mechanical engineer)
Contratista Contractor
NECSO
Superficie Floor area
554m²
Fotos Photos
Duccio Malagamba, Pedro Pegenaute