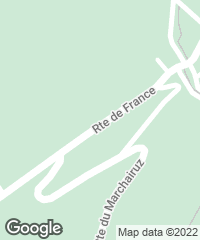 The Musée Atelier Audemars Piguet is located within the famous luxury watch manufacturer's historical complex of workshops and factories. It reflects the innovative spirit of the firm – which has successfully maintained its autonomy as a family enterprise – and is rooted in the culture and nature of La Vallée de Joux. The layout is based on a visitor route that presents the history and process of watchmaking and threads the different parts of the program in a continuous sequence. This strategy is materialized in a half-buried double spiral that is striking yet subtle, functional yet sculptural.
In the year 2017, Audemars Piguet commissioned BIG to build a hotel close to the museum. The design pursues the same idea of the storyline as leitmotiv, but here the program breaks up into several volumes arranged in a slope, connected inside by a continuous corridor and outside by a passable zigzagging ramp directly linked to a number of ski trails. The elevation shows the inclined slabs of the rooms – which are situated at a level higher than the public promenade outside – alternating with those of the communal zones, which take advantage of the space beneath the ramp.
Cliente Client
Musée Atelier Audemars Piguet. Audemars Piguet
Arquitectos Architects
BIG-Bjarke Ingels Group.
Socios responsables Partners in charge
Bjarke Ingels, Thomas Christoffersen, Daniel Sundlin, Beat Schenk
Jefe de proyecto Project leader
R. Hansen, S. Scheller (project manager), M. Oravec (arquitecto responsable project architect), O. Pupezeanu (diseño project designer)
Equipo de proyecto Project team
A. Mans, A. Peracin, A. Stare, B. T. Smith, C. Thomas, D. Lee, E. M. Mikkelsen, E. Wiskup, H. Laksafoss, I. Ulam, J. Casimir, J. Wu, J. Yoon, J. Beauchamp-Roy, K. Hindsberg, M. Fejcak, M. Lancon, M. Rahman, M. Le Droupeet, N. Kwee, P. Loschetter, P. G. T. Javanaud Emden, T. Bank, U. Rinnebach, V. Lalli, V. Cheng, Y. Juarbe
Colaboradores Collaborators
BIG IDEAS, HG Merz, Luchinger und Meyer, Muller Illien, CCHE Architecture, Ingphi, Pierre Chuard Ingenieurs-Conseils, Sorane, Duchein, MAB-Ingénierie, Ignis Salutem, EcoAcoustique, Alterego Concept, Jean Pitteloud, Thorens & Associés, DENOGENT SA
Fotos Photos
BIG