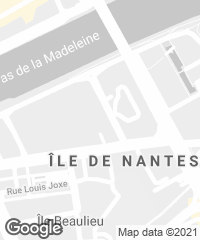 The redevelopment of the Brossette site completes the transformation of boulevard Vincent-Gâche, hosting the largest construction site ever opened on the Île de Nantes. Formerly occupied by the warehouses of a manufacturer of bathroom fixtures, this 1.5 hectare parcel facing the Loire River will soon be home to six new buildings with mixed programs. The site lies at the intersection of several formal systems: the condominium buildings raised in the 1970s, an office complex with courtyards and gardens that were never completed, and the operation of Alexandre Chemetoff, which was the first phase of the island's urban renewal. The design was developed by three different architecture firms; a joint effort that centered on issues like scale, identity, and occupation of the exterior spaces, as well as environmental aspects like sunlight and wind patterns. The project foresees the construction of six mixed-use buildings, including an 18-story tower at the north end of the plot, overlooking the Loire and wrapping up the complex.
The plot is divided into a system of longitudinal bands arranged along the north-south axis, with new paths that highlight the relationship between the site's core and the river. Interior spaces formed by the construction of the six buildings emerge in the form of squares, terraces, and gardens. Though the parcel is private, all the outdoor spaces are open to the city. This neighborhood has become fully pedestrian and is traversed by a central avenue. It is the spinal column of the block and leads to the heart of the project, a wide square in front of the tower, renamed '360° View,' where
four large poplars create a dialogue with the metal facade. The scheme contains 225 housing units, 5,200 m² of offices, and a new campus of 3,000 m² where the Vatel international school of hotel management and tourism has decided to locate its new facility with classrooms, a restaurant and a brasserie, as well as a residence for students with 280 apartments. In addition to aligning the floors from one construction to another and the shared regularity of the openings that make up the facades, each common space is at the same level, which provides an open and broad view of the historic city's skyline. The design of the tower's facade is based on the repetition of two brushed aluminum modules with rectangular openings. The skin reflects its environment during the day, while at night the perforated sheet shutters dissolve and let the interiors of the dwellings be seen.
Arquitectos Architects
LAN (Local Architecture Network)
Colaboradores Collaborators
BASE (paisajismo landscaping)
Cliente Client
Kauffman & Broad
Superficie construida Floor area
29.830 m²
Presupuesto Budget
38.000.000 € (PEC contract budget)
Fotos Photos
Julien Lanoo