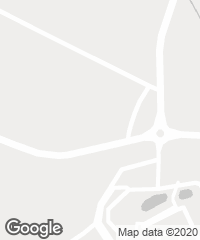 The building contains the industrial records of the energy company EDF and symbolizes its historical service to, and strong presence in, the Meuse and Haute Marne region. Archives previously kept in the firm's production centers (nuclear, hydraulic, and thermal energy plants) have now been brought together in engineering units or associated service sites. The new archive simplifies the organization and storage of the documents, and makes them more easily accessible to corporate staff.
The client initially wanted a single-level building taking up the entire site, but eventually agreed to the idea of freeing up as much land as possible and concentrating the program in a compact volume: a 19-meter-tall, five-story prism containing a built surface area exceeding 7,000 m², yet taking up only 1,400 m² of land. The compactness of the volume also makes for less enclosure surface, and thus less energy exchange between interior and exterior, besides more unbuilt-on ground to suck rainwater from, less distance for employees to travel internally, and an easily recognizable object in the landscape. The need for an optimal storage system and efficient management thereof led to organizing the program in two parts: one for the archives, with twenty 200 m² deposits that maintain a constant temperature and humidity; and the other for offices, inserted into the hill and opening on to the landscape through large windows.
The prism has a skin of prefabricated concrete panels dyed the color of the earth in the region, with 120,000 stainless steel discs embedded into the base of the formwork before the concrete is poured. These pieces reflect the surrounding landscape and soften the building's presence in the place. The result is a dynamic enclosure, varying throughout the day in accordance with sunlight, weather, and any changes occurring in the landscsape. This constructive solution is not only effective in terms of form; it also ensures that the project complies with environmental regulations. The double skin of prefabricated concrete (enclosure and structure), along with 30 centimeters of thermal insulation, is a guarantee that hygrothermal conditions are adequate for preserving archives. Thanks to the inertia of the walls, the installation of efficient mechanical air conditioning systems (ventilation with heat recovery), and the use of high-performance lighting solutions, the building's annual consumption of energy is much reduced, hardly 29 kWh/m².
Arquitectos Architects
LAN (Local Architecture Network)
Colaboradores Collaborators
Agence Franck Boutté (sostenibilidad HEQ consultant); Batiserf Ingénierie (estructura structure); Bureau Michel Forgue (aparejador surveyor); Base (paisajismo landscape); lbe (instalaciones utilities); Christophe Leblond (gestión de proyecto project manager)
Superficie construida Floor area
6.800 m²
Presupuesto Budget
10.100.000 € (PEC contract budget)
Fotos Photos
Julien Lanoo; Iwan Baan