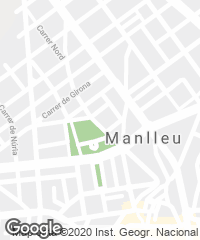 Playing with a wooden piece set for kids one can obtain varied compositions, which transferred to the field of architecture, somehow match the distribution of volumes and spaces during the creation process of a building. Each one of the colors covers a different volume, in such a way that it is possible to keep identifying them as autonomous pieces even when they become part of the whole. Color is the best device when it comes to defining and recognizing independent prisms. These chromatic variations and also the incorporation of the perspective of children and their capacity to grasp the exterior world, were the guidelines in the design of this kindergarten in Manlleu, Barcelona.
Putting into practice the tests carried out with game sets for children, the kindergarten is organized with glazed colored prisms, so that boundaries are blurred and it is the child who is in charge of discovering them.
The chosen plot lies across the street that surrounds the cemetery, so there is a wide open space in front of it. The opposite street stretches all the way to the river Ter. Between them, the kindergarten unfolds over an orthogonal grid consisting of eight rectangular prisms – distributed in two bands that house the shared spaces in their first volumes and the classrooms in the consecutive ones – crossed by a ninth elongated piece that lies transversal to both rows and links them as a sort of porch. The spaces for kids have one height only (their perspective, from bottom to top, broadens their relative perception, something that has been kept in mind during the design of the center) and only the teachers' lounge and the principal's offices are in an upper level.
Classrooms are located on either side of a courtyard-corridor; inside, a similar scheme places glazed changing rooms also on either side of the corridor, drawing sunlight through them and into the rest of building's interior.
Within the numerous tasks that are part of the learning process of the children in this school – from 0 to 3 years – a special attention is paid to the appreciation of space and self-orientation, elements essential for the development of notions of autonomy and confidence. The open and flexible character of spaces is meant to encourage interaction. The complex is delimited by a fence made of such light metallic elements that it merges smoothly with its surroundings, whereas the playground – comprising here all the horizontal surfaces among prisms that can be used by the children – is particularly solid thanks to the combination of sand, gravel and rubber. The boxes are clad in colored glass sheets and so each one is able to set itself apart from the adjacent one. The intermediate doors are made of galvanized sheet, whereas each one of the interior boxes containing bathroom, changing room and cupboard, go from floor to ceiling and act as skylights to illuminate the interior.
Cliente Client
Ayuntamiento de Manlleu
Arquitectos Architects
RCR: Rafael Aranda, Carme Pigem, Ramón Vilalta
Colaboradores Collaborators
M. Tàpies (proyecto project); M. Subiràs (dirección de obra construction site supervision); G. Rodríguez (maqueta model); M. Linares, J. Torrents (aparejadores quantity surveyors); M. Braga, F. Spratley (visualización digital images)
Consultores Consultants
Blázquez-Guanter (estructura structural engineering); Grau-Del Pozo (instalaciones mechanical engineering)
Contratista Contractor
Construccions Ferrer, Construccions
Metàl·liques Olot
Fotos Photos
E. Pons