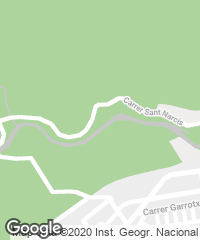 The River Fluvià begins in the mountains of Collsacabra, south of the city of Olot, and flows into the Mediterranean, in the Ampurdán marshlands, after covering seventy kilometers through the region of La Garrotxa.Almost hidden amid the poplars, the pavilion offers services to those using the bathing area on the river bank as it passes by Tussols-Basil.
The pavilion is a longitudinal volume, slightly curved on plan to reflect the sinuous course of the river. In front of it, a platform rising just a few centimeters above ground reproduces and extends the form of the pavilion. Inside it there are three identical pieces with restrooms and showers, and a fourth and larger piece accommodating a bar.
The smaller pieces are made of stainless steel sheet with a sandblasted finish, in contrast with rest of the pavilion, carried out in metal sheet with an oxidized finish, asserting in this way its formal independence. The paved areas use concrete with black dye and quartz; and the roof is made of zinc. As much the platform of access as the main volume strengthen their longitudinal character with steel lintels, welded parallel to the slab edges.
Cliente Client
Ayuntamiento de Olot. Parque Nacional de la Zona Volcánica de la Garrotxa
Arquitectos Architects
RCR: Rafael Aranda, Carme Pigem, Ramón Vilalta
Colaboradores Collaborators
A. Sáez (proyecto project); M. Subirás (dirección de obra construction site supervision)
Consultores Consultants
Blázquez-Guanter (estructuras structural engineering)
Contratista Contractor
Bassegoda Construccions
Fotos Photos
E. Pons