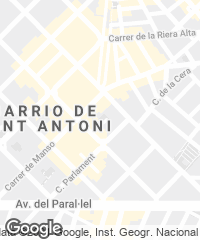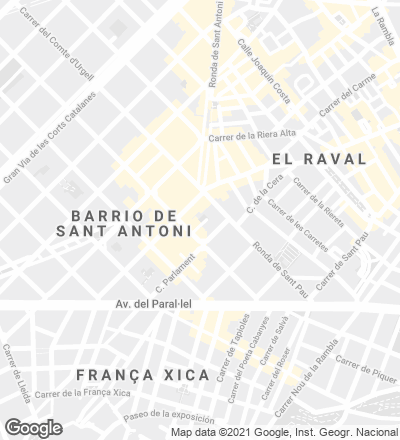 This mixed-use structure is included in the plan – promoted by the City Council – for the recovery of the interiors of the urban blocks of the Ensanche of Cerdá in Barcelona, and goes up in the last plot available on Conde Borrell street, in the San Antonio quarter.
The commission was not only limited to the recovery of the inner courtyard, but also foresaw the construction of a library and of a center for the elderly. The careful positioning of the resulting volumes addresses the desire to establish a physical and visual link between the street and the new landscaped space.
The library is configured as a door whose dimensions reflect the urban scale, placing the reading rooms in weightless boxes held by two side volumes that cover the surfaces of the party walls of the adjacent residential buildings, conveying at the same time an image of solidity thanks to their metallic finishes and to their elongated openings. These lateral pieces gather the vertical communication elements, freeing up as much space as possible for the reading rooms of the different floors, and leaving the level of access for magazines and journals. The reading spaces of the three upper floors are organized by subject and reading age.
The last two levels are also linked by a series of steps that conform a more dynamic environment for reading and interaction. Finally, the basement includes a small assembly hall and a gallery for exhibition purposes, aside from premises for administration, services and deposit.
The facades of the center for the elderly are cut out against the backdrop of the buildings that wrap up the urban block, repeating in its interior the outer scheme and keeping a connection with the street below the library.
For its part, the center for the elderly docilely reproduces the setbacks of the lots that delimit the inner courtyard, freeing up as much surface as feasible and configuring a continuous, single-height plinth that becomes a new facade rising before the severe wall that marks the boundary of the intervention.
The pieces containing the reading rooms stand between the two vertical volumes that are attached to the party walls in order to support them. They also act as light filters that offer unobstructed views of the open sky.
Along the bays of greater depth the floor plan is fluffed up and detached from the party wall, forming courtyards that procure as much natural illumination as possible, both for the rooms located in the access level and for the workshops and spaces in the basement. The free surface obtained serves as a place for rest, for gathering, for walking and for children's play, one where people of different ages can interrelate. This courtyard is separated from the premises of the center for the elderly by porches enclosed with steel slats that delimit a private space and also buffer the noise coming from the children's playground.
Cliente Client
Proeixample. Ayuntamiento de Barcelona
Arquitectos Architects
RCR: Rafael Aranda, Carme Pigem, Ramón Vilalta
Colaboradores Collaborators
O. Gallez (concurso competition); G. Trégouët (maquetas, concurso, proyecto y dirección de obra models, competition, project and construction site supervision); A. Sáez (dirección de obra construction site supervision); M. Guaragna, M. Braga (visualización digital images); Proeixample: C. Marzo (proyecto project)
Consultores Consultants
GPO: C. Carrasco (aparejador quantity surveyor); Blázquez-Guanter (estructura structural engineering); Grau-Del Pozo (instalaciones mechanical engineering)
Contratista Contractor
Vías y Construcciones
Fotos Photos
E. Pons, RCR, H. Suzuki