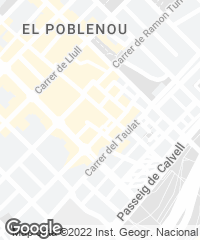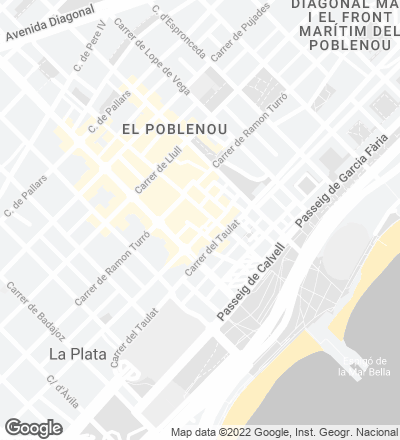 The Catalan firm SUMO arquitectes – Marc Camallonga, Jordi Pagès, Pasqual Bendicho – renovated and enlarged this school in Barcelona, organized in three volumes and combining concrete and wood. The 1950s building has undergone a thorough revamp. The second volume is a new-build connected at one end to the original, forming an L to create a playground courtyard. The third one, open and freestanding, is linked to the rest by a bridge over the street.
The new annex presents a structural bay with modules of four pillars measuring 7.40 x 7.85 meters, and slabs of reinforced concrete. The concrete structure is left as is, harnessing its thermal inertia. The enclosure is a ventilated facade system with a totally industrialized light inner layer and high thermal properties. On the first floor and both sides of the building are double-height overhanging terraces that act as shade-houses creating a transition between interior and exterior. Incorporating photovoltaic panels, the flat roof is an additional playground for the schoolchildren.
Finally, the building that faces the square has a frame of beams and slabs of laminated timber. Two large walls of reinforced concrete hold up the structure and generate a huge cantilever over the square. Laminated pinewood beams with 120-centimeter edges span a distance of 17 meters, giving rise to various levels. The dry construction system lessens execution deadlines.
Cliente Client
CEB Consorci d'Enseyament de Barcelona
Arquitectos Architects
SUMO Arquitectes. Marc Camallonga,
Jordi Pagès, Pasqual Bendicho
Colaboradores Collaborators
Manuel Arguijo (estructura structure); AIA Instal·lacions Arquitectòniques (instalaciones mechanical engineering)
Consultores Consultants
Joel Vives (presupuesto y mediciones budget and measurements); Dekra, Oriol Barber (sostenibilidad sustainability); E3 Solinteg. Cristina Márquez (DEO); Pera Pardina Consultores, Aleix Alexandre (project manager)
Contratista Contractor
Natursystem / Eurocatalana; Cortizo (carpintería aluminio aluminum carpentry); Fundermax (laminado de alta presión high pressure laminated)
Superficie construida Floor area
5.400m²
Presupuesto Budget
5.676.700€ (PEC + IVA)
Fotos Photos
Aitor Estévez Olaizola