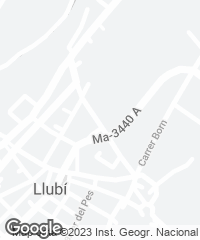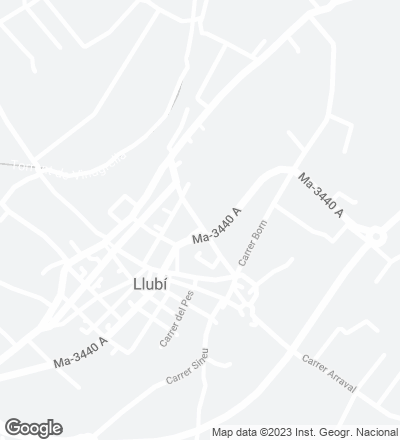 Llubí is a small town in the center of Mallorca, 40 kilometers from the island's capital. Its benign climate and isolated geography have allowed a local architecture based on marés, a sandstone that has its geological origin in the seabed that shaped most of today's island.
The chosen site is at the southwest edge of town, where two patterns meet: the agricultural one, that has shaped streets such as Son Bordoi and Ramon Llull, with its orchards; and Roca Llisa street, perpendicular to the first one, with a more urban character. The structure and spatial organization of the new building recognizes these two patterns. The structure follows the direction of the neighboring partition walls, allowing a visual connection between this street and the back patio. The spatial organization belongs to the agricultural order. The meeting of these two directions conforms this habitat's complexity.
The rural character of the town, its pace and its culture of using the available resources are expressed in the versatility of the spaces, open for more initiatives all year round. The dining room can be used as a civic center, and the classrooms are connected to house events and celebrations.
The concrete base of the structure collects sunlight during winter, warming the interior. A structure made of pine and larch laminated pillars and beams and CLT panels transforms the school into a large porch in summer, when the embat – the sea wind – cools the interior on the warmest days. The collaboration between the thermal inertia of the stone base and the thermal insulation of the light roof, as well as between stereotomic and tectonic forces, helps to order, stratify, and take the light of the island's interior to the different spaces of the building.
The building approaches the street to free as much space as possible on the back end, where the existing orange trees are saved. The program is organized on five stretches parallel to the street: the entry ramp, underneath a porch; the offices, toilets, dining room, and kitchen; the common space; four classrooms; the garden. These five stretches open up into each other and with the outdoors, allowing multiple uses. Longitudinally, five timber frames connect the street with the backyard. Above, slender laminated beams of different heights mark the interior character. In the shared space, these beams rise to let dusk and dawn sunlight sneak in between them, allowing as well a precise ventilation, a built 'embat.'
Cliente Client
Ayuntamiento de Llubí
Arquitectos Architects
Aixopluc + Aulets
Colaboradores Collaborators
Ricard Pau, Carlos Gonzalvo, Anna Castellà
Consultores Consultants
Joan Josep Torrens (arquitecto técnico quantity surveyor)
Contratista Contractor
Sampol Ingenieria y Obras, S.A.
Superficie construida Floor area
482m²
Presupuesto Budget
521.139€ (PEM)
Fotos Photos
José Hevia