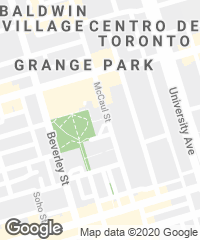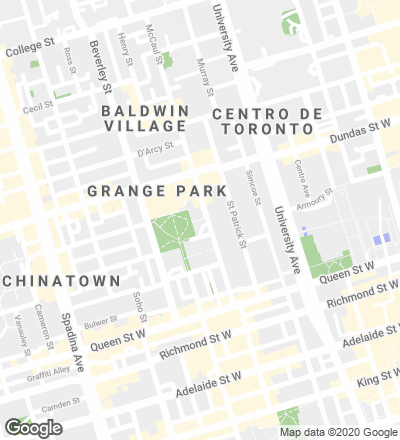 Agrowing recognition of the importance of creative industries to Canada's economy, led the government to release a significant amount in funding for the extension and refurbishment of the Ontario College of Art & Design. The old facilities it used to occupy, bordered to the west by the historic Grange Park and to the south by Ontario's Art Gallery, lacked good quality workshops and exhibition space, so a surface parking area on an adjacent plot was chosen as the site for the addition.
The new College of Art & Design, conceived after a period of consultation during which students, college staff and local residents were able to participate actively, is materialized as a double-height volume, a sort of horizontal skyscraper, which goes up nine stories above ground level and the premises of the existing college, supported off by twelve spindly multicolored legs. Though the brief clearly exceeded the regulations concerning the built volume and maximum height permitted, the City of Toronto finally gave the green light to a scheme that allowed to extend the park, to preserve the views of the neighbors and to create a public space under the building.
This uninhibited and pop version of the famous cloudhangers designed by El Lissitzky was carried out entirely with standard construction elements. The hovering box, like a large flying tabletop, is formed by a metallic structure clad in a white field of aluminum panels and a random pattern of black squares and rectangles, creating a pixilated effect. Aside from the five facades appropriate to the most demanding architecture, the building has a sixth facade which can be seen from the ground and that performs as a lively ceiling for the new public space. The way the pixilated surface wraps around to the underside of the building and the alternating position of windows in each level helps to make the box read as a single elevated volume. Internally, two spacious floors house the facilities of the new college, arranging classrooms and workspaces around the perimeter, and leaving the circulation spine in the central areas.
The multicolored stilts of 29 meters in length and oversized diameter which compose the vertical structure could only be manufactured with the same steel pipe commonly available to the oil industry, and once finished, had to be hauled 120 kilometers to the site, where the concrete cores had already been erected... [+]
Cliente Client
Ontario College of Art & Design
Arquitectos Architects
Will Alsop, Robbie/Young + Wright
Colaboradores Collaborators
Jonathan Leah, Isabel Brebbia, Oliver Blumschein, Christian Harrup, Anthony Murray, Stephen Swain, Lilli Pschill, Sven Steiner
Consultores Consultants
Carruthers & Wallace (estructura structure); YWLA (paisajismo landscape); PHA (gestión project management); Sterling Finlayson (diseño urbano urban design); Air Coustics (acústica acoustics)
Contratista Contractor
PCL Constructors Canada
Fotos Photos
R. Johnson/Interior Images