Ryerson University Student Learning Centre, Toronto
Snøhetta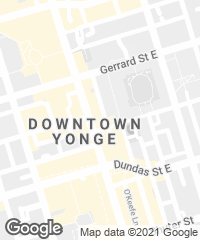 Located between a major commercial district and Ryerson University, the learning center plays the double role of satisfying the academic needs of the campus and of improving the urban quality of Yonge Street and its surroundings, one of the busiest and best-known shopping avenues in Canada. To achieve this, the building's southern corner is cut out of the volume to generate a covered square of access that offers a broad range of social activity: from large gatherings to individual seating areas.
A series of ramps and steps leads from this space to a large lobby with lounge areas, informal seating areas and late-night study zones with a cafeteria. From the ground floor to the upper terraces, the different floors change in plan and in section depending on the program: each floor is equipped with independent interactive technology and informal furniture that can be reorganized easily depending on the needs, always favoring the communal and versatile use of the collective spaces. The facades of the building are composed primarily of a fritted glass skin with a varying pattern that controls ultraviolet light and prevents glare in the reading rooms but lets natural light pass through. 
Client
Ryerson University
Architects
Architect: Snøhetta & Zeidler Partnership Architects Inc.
Landscape & Interior: Snøhetta.
Collaborators
Structural: Ch2m Hill. MEP: Crossey Engineering
Contractor
EllisDon
Surface area
14.200 m²
Photos
Lorne Bridgman, Snøhetta