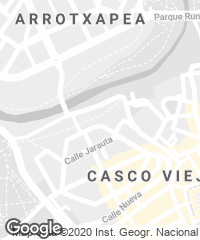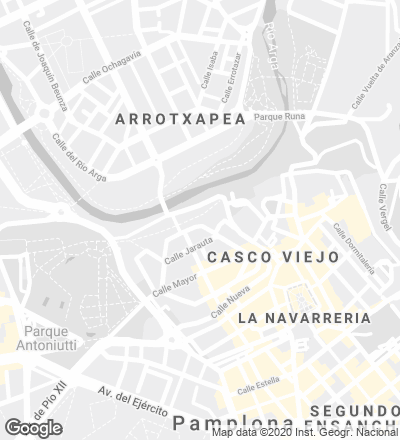 The project is located on the northern end of the historic center of Pamplona, at the edge of the plateau on which it rests, next to Paseo de Ronda, the border of the city wall. It is a project promoted by the public administration aiming to regenerate the historical center, and developed within the municipal housing plan. The building takes up the plot where another volume was demolished, and had to wrap up the existing block and face an urban void, a new plaza by the wall. Because of the crisis the municipal plan was postponed, and an additional element, a semiprivate passageway, was included in the project to make it feasible.
Within a municipal plan to regenerate the historic center of the city, the project includes six subsidized apartments and two shops, and recovers the medieval vault in the basement of the old building. 
In spite of the initial uncertainties, the competition proposal took a specific point of departure, which was to make sure the design addressed future housing needs. In the urban context at hand, the organization proposed is different from the usual one: living areas onto the street and bedrooms towards the interior. In this way, the bedrooms face the side streets and the less private areas of the apartments face the new plaza; between them, the bathrooms and kitchens and, lastly, the kitchens open up to the living rooms, separated by a glass wall. In such a reduced plot it was important to choose the best solution for the communications core, and this permitted configuring on one side a dwelling of 40 square meters and on the other one of 65. It was also possible to include a section of housing units where a greater flexibility was possible: by connecting spaces in height, an apartment of 40 square meters could be enlarged to 75, and one of 65 to 90 by doubling half a floor, and reaching even 120 square meters.
The concrete steps  with open risers let sunlight pass through;  the communications  core is in this way understood as a unique space, and it earns  visual depth in spite  of its reduced size. 
The project follows the guidelines of the old quarter, where the addition of pieces generated from the public space defines the urban blocks. This guarantees that the new building can blend easily with the existing, making the facades, scale, fragmentation and composition ensure urban continuity.The facades follow two differentiated situations: from the streets they look for a certain anonymous presence in tune with the existing buildings; from the new plaza the facade has large square windows arranged randomly, somehow conveying the uncertainty of the project. The wall of the adjacent kindergarten was included in the project, giving the passageway space its final image. This canvas, with the same facade material, offsets the unevenness of this building, that had to be maintained.
Cliente Client
PCH Pamplona Centro Histórico, Ayuntamiento de Pamplona
Arquitectos Architects
Carlos Pereda Iglesias y Óscar Pérez Silanes
Colaboradores Collaborators
Teresa Gridilla; Atec (aparejadores quantity surveyors)
Contratista Contractor
Construcciones A.Erro y Eugui
Superficie construida Floor area
747,15 m² (edificación built area)
87,46 m² (urbanización site area)
Presupuesto Budget
666.316 euros (PEM edificación built area)
77.929,58 euros (PEM urbanización site area)
Fotos Photos
Pedro Pegenaute