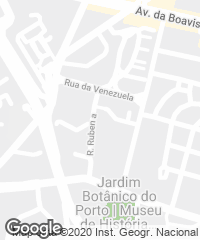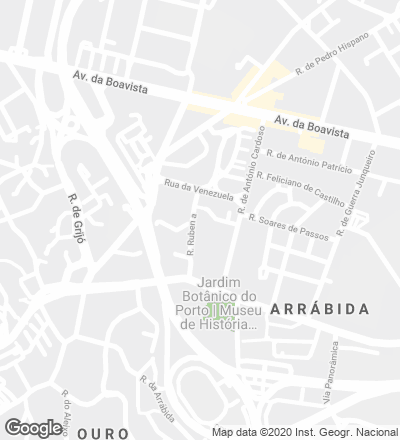 The building is located in the gardens of a neoclassical style house of the early 20th century in Porto. So as not to alter the historical identity of the precinct, the new structure occupies a perimeter position, replacing the enclosure wall with two parallel granite walls between which the center develops. Three sculptures, which haven't been materialized, were to mark its accesses: the first rests on the enclosure wall that starts in the garden and that makes its way perpendicularly into the auditorium to define its stage; the second would be located at the entrance of the exhibition hall and would serve as emblem of the center; the third, finally, was to take up the space between the center and the adjacent nine-floor tower, with the film library as backdrop.
The entrance to the building is parallel to the main directrix of the project, on the wall that limits with the garden, via a small staircase: a composition that might be reminiscent of projects by Mies van der Rohe, but that actually draws inspiration, in words of its author, from Terragni's Danteum. The door of access, of mirrored glass, conceals the slab's depth emphasizing the compositive independence of the stone walls, aside from reflecting the sunset and the treetops on the way up. In the lobby, which is also used for exhibitions, the views are directed towards the city and not the garden of the villa to avoid distracting the visitors. This space is presided by a blue concrete wall that is at once partition wall, furniture piece and a sculpture that touches neither floor nor ceiling, thus preventing the gallery from becoming a corridor and maintaining the spatial unity of this area. Behind this sculptural wall is a staircase leading to a hall in the basement floor, the administration spaces and a small library, while its ends face the accesses to the auditorium and the film library. The lightweight staircase is built with a metallic frame and wooden steps.
While stone prevails in the exterior of the building, in clear resonance with the existing elements and the environment, in the interior many of the walls are covered with plaster or exposed concrete, generating a more neutral atmosphere. Stone has been recovered, partly, from the park itself, while the reflecting glass reproduces the luxuriant trees of the surroundings, helping to blend the building into its unique historic site with a presence that is at once bold and discreet. 
Cliente Client
Secretaria de Estado da Cultura?
Arquitecto Architect
Eduardo Souto de Moura
Colaboradores Collaborators
João Carreira, Luísa Penha
Consultores Consultants
João Maria A. Sobreira (estructuras structural engineering); José Sousa Guedes (electricidad electrical engineering); Constantino Matos Campos (instalaciones mechanical engineering)
Contratista Contractor
Soares da Costa
Fotos Photos
Luís Ferreira Alves