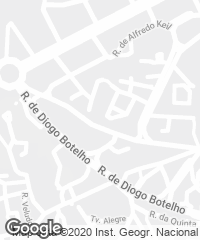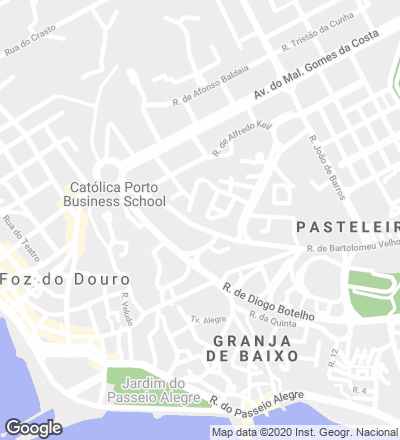 Designed as a tribute to the work of the filmmaker Manoel de Oliveira, the most famous and long-lived among Portuguese directors, the Casa do Cinema is a small reinforced concrete construction of two levels, resembling a film camera the two large lenses of which avoid the surrounding buildings in search of the faraway views. In this way, and as Oliveira does in this own film production, with a predominance of still images before which the action of his movies take place, the Casa do Cinema observes with interest the passage of time and the landscape of Porto.
Its cubic profile, not very different from that of the neighboring houses, shows a broken floor plan to adapt to the needs of the site and the views. Horizontally, the project is divided into two clearly differentiated parts. The ground floor, externally covered by unpolished metallic panes, contains the access to the center, the stairs and the elevator, as well as a small living room for some thirty-five people. On the upper level, for its part, it presents a dark gray mortar finish. Inside, the irregular polygon of the floor plan is taken up by viewing and reading posts, except for the two cantilevered volumes of the west facade, rotated with regards to one another and presided by two large tables. The orientation of these bodies is determined by the desire to avoid the views of the two fifteen-story housing towers located only 35 meters far. Thanks to this gesture, the users of the center can enjoy the views of the river and the sea. The pitched roof, folded towards the interiors, is made of zinc, and the floors are of dark wood, except for those of the lobby and the stairs, of gray marble. A stretched out stair, like a large tongue, makes the building accessible from the street located on the western side of the site.
The Casa do Cinema also has a basement floor with bathrooms and archives; the access by car on this level is also the entrance to the garage of Oliveira's house, located at a few meters' distance, in the rear garden. It is a semi-freestanding house, whose vertical communication core is attached to the party wall to free up as much facade space as possible. Following a conventional scheme in residential architecture, the ground floor of the house contains the main living spaces, and places the bedrooms and a small office on the upper floor. Outside, the dwelling creates a neutral backdrop, with large horizontal windows and in a white tone, against which the most expressive volume of the public building stands out. 
Cliente Client
Câmara Municipal do Porto
Arquitecto Architect
Eduardo Souto de Moura
Colaboradores Collaborators
Sérgio Koch, Diogo Guimarães, Ricardo Meri, Enrique Penichet, Joana Corrêa, Jorge Domingues, José Carlos Mariano
Consultores Consultants
GOP (estructuras, fontanería y saneamiento structural and hydraulic engineering); GPIC (electricidad electrical engineering); Paulo Queirós de Faria (instalaciones mechanical engineering)
Contratista Contractor
Incons
Fotos Photos
Luís Ferreira Alves, Christian Richters, Hisao Suzuki