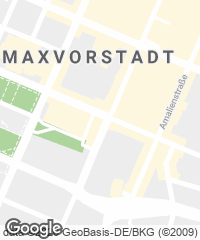 Located in the Munich district of Maxvorstadt, in the north-western corner of the Museum Quarter – which includes the Alte Pinakothek, the Neue Pinakothek, the Pinakothek der Moderne, and the Staatliche Graphische Sammlung –, the Brandhorst Museum consists of a longitudinal building and a main entrance building. These volumes are connected by a continuous strip window that divides the volume visually into two floors. On the 'head', this band flows into the generous glazing of the main entrance. Inside, the building has three exhibition levels with average floor heights of nine meters. To the south, the administration and depots are accommodated on eight stacked floors of 3.90 meters each. In addition to the exhibition areas, foyer, cafe, bookshop, seminar rooms and their ancillary rooms, the building contains rooms for administration and security personnel, a loading bay for art, exhibition workshops, restoration studios and depots. 
In the galleries, the light concept for this museum strives not only, as is usual, to illuminate the top floor with natural light, but the lower floors too. Below ground, this is achieved by offsetting the floor plan, which makes direct illumination from above possible. On the ground floor, a system of reflectors direct light from the zenith through an asymmetrically arranged strip of windows into the galleries, providing uniform illumination. This use of natural light contributes to energy efficiency, one of the main concerns of the architects. Furthermore, in addition to conventional ambient air systems, the primary source of heat energy for the building is an up-to-date groundwater heat pump. 
Whereas the main aim of the museum's interior is to create ideal conditions for the exhibition of the art works – a collection donated to the city by Udo Brandhorst, and which includes works by Andy Warhol, Bruce Nauman, Sigmar Polke or Joseph Beuys among many others –, outside, a facade of 36,000 polychromatic ceramic rods intends to direct attention to the museum's representative and cultural role. The ceramic pieces, glazed in 23 different colors, are grouped into three families that underline the formal independence of the volumes that make up the structure. Seen from afar, the color groups coalesce to form a neutral color with respectively differing degrees of brightness and tone. Seen from up close, they reveal the chromatic intensity that defines each individual ceramic rod.

Cliente Client
Estado de Baviera. Ministerio Bávaro de Ciencia, Investigación y Arte. Departamento de Obras Públicas de Múnich (gestión de proyecto project manager)
Arquitectos Architects
Matthias Sauerbruch, Louisa Hutton, Juan Lucas Young
Colaboradores Collaborators
David Wegener (jefe de proyecto project architect), Peter Apel, Rasmus Jörgensen, Mareike Lamm, Jürgen Bartenschlag, Philip Engelbrecht, Andrea Frensch, Michaela Kunze, Jörg Albeke, Britta Aumüller, Philipp Eckhoff, Angelika Fehn Krestas, Ramiro Forné, Felix Habich, Tanja Kausch-Löchelt, Andrew Kiel, Seamus Kowarzik, Marie Langen, Ilja Leda, Constantin von der Mülbe, Daniela McCarthy, Sandra Peters, Markus Pfeifer, Maria Saffer, Birgit Schönbrodt, Marc Schwabedissen, Kerstin Treiber, Anja Vogel; Marcus von der Oelsnitz, Rasmus Jörgensen, Mathias Mund (gestión de obra construction management)
Consultores Consultants
Ingenieurbüro Fink (estructura structure); Ingenieurbüro Ottitsch (acondicionamiento y fontanería HVAC and plumbing); Zibell, Willner und Partner (electricidad electrical engineering); Arup Lighting (iluminación natural daylight planners); Adelheid Gräfin Schönborn (paisajismo landscaping); Doerner Institute (conservación preventive conservation)
Fotos Photos
Jan Bitter/Cy Twombly, Anette Kisling, Annette Kisling/The Andy Warhol Foundation for the Visual Arts, Haydar Koyupinar/bayer.bastaatsgemäldesammlungen