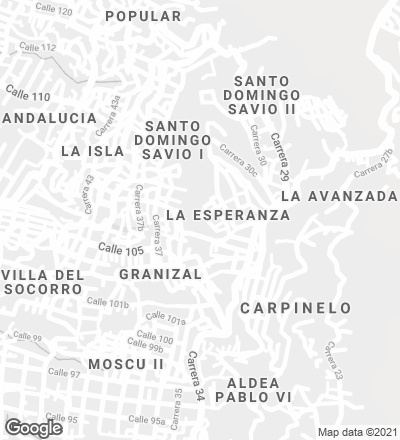 The competition called for the construction of a public library on the outskirts of Medellín. The main goal was to design an infrastructure able to fulfill the educational and recreational functions described in the brief and favor social integration.
The library building goes up in a urban context of small self-built brick houses and left-over green areas where nothing has been built because of the steep slopes. This organization produces a uniform city texture with no visible hierarchy elements. For this reason, the building proposed seeks to stand out in its context as a landscape-building, as an anomalous element that shapes the place and maintains the existing tension through the geography itself, but giving it a new image, hierarchy, and content.
This approach to design through the ideas of 'anomaly' and 'contrast' enables to create a distinctive and recognizable building in the city, but also creates interior spaces with the capacity to decontextualize users, detaching them from the surroundings. For this reason, the building looks shyly towards the city through small windows that hint at the relationship with the valley and direct lighting from the upper level.
A key objective of the project was to use architecture as a powerful tool to help regenerate decaying areas. Currently under reconstruction due to structural problems unrelated to the design, the Spain Library Park has become a symbol of the social and urban transformation of Medellín. The purpose was to provide a design with a strong character that would encourage citizens to make the building their own, promoting pride in the community. The architectural project is set out to materialize a political project against the violence suffered by the city during so many years, and which focussed on reducing the stigma and lack of opportunities that such violence brings with it.
The competition demanded a multipurpose institutional building including library, classrooms, exhibition hall, administration areas, and auditorium in one volume. However, this proposal arranged the program into three groups: first, the library; second, the classrooms; and third, the administration areas and auditorium. The three volumes are furthermore integrated in a lower platform to provide greater autonomy and flexibility of use. This integration also encourages the community to participate, because each piece can function independently, though they share the same control system...[+][+]
Ubicación Location
Medellín, Antioquia (Colombia)
Cliente Client
Alcaldía de Medellín
Arquitectos Architects
Giancarlo Mazzanti (proyectista designer), Juan Manuel Gil, Camilo Mora, Fredy Pantoja, Gustavo Vásquez, Iván Ucrós, Pedro Saa (colaboradores collaborators)
Estado Status
En reconstrucción Under reconstruction
Superficie Floor area
3.727 m² (14.265m² espacio público public space)
Premios y reconocimientos Awards & Honors
Primer premio Concurso Público, Sociedad Colombiana de Arquitectos (2005) Public competition 1st prize, Colombian Society of Architects. MoMA New York, colección permanente MoMA permanent collection; Centre Georges Pompidou. CMOA (Pittsburg).
Premio XVI Bienal Panamericana de Arquitectura (2008) Pan-American Architecture Biennial Prize. Premio IV Bienal Iberoamericana de Arquitectura (2008), IV Ibero-American Architecture Biennial Prize. Primer premio Lápiz de Acero Azul, categoría Diseño Arquitectónico (2008) Blue Steel Pencil Award, category Architectural Design
Fotos Photos
Sergio Gómez, Iwan Baan