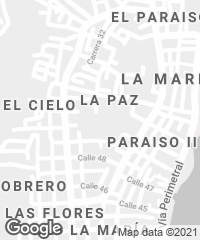 Located on the slope of the Loma del Peyé, in Cartagena, the megaschool for the Pies Descalzos Foundation was conceived as an architectural and urban project with
a significant social impact and the capacity to become a strong motor for change for the population in the area – one of the most deprived parts of Cartagena de Indias – and, by extension, the whole city. The building had to help create the conditions to improve the life of residents by generating alternatives for personal and community growth, triggering the transformation of the environment and achieving, through its form, a strong urban image, a distinctive symbol in its neighborhood – a settlement of informal dwellings where it hopes to produce sentiments of identification, if not pride, among the members of the community. Another key objective was to ensure construction and maintenance through the use of common materials and sustainable strategies.
The design is conceived as a sequence of interconnected hexagons with the same layout: a two-level bay around a central activities courtyard. The built perimeter is just as important as the void interior space and the relationship with the other rings. This simple and legible organization leads to a no less legible spatial scheme. While the hexagonal contours define a perimetral circulation and accommodate the specific program of the school's classrooms, the courtyards covered by a pergola are planted with native species to create microclimates that suggest the activities that can carried out inside each one of them.
Arranged in several platforms to adapt to the sloping topography of the site, the hexagons vary in size in order to accommodate the different parts of the program. While the smallest one is reserved for the preschool, the larger volumes house the primary and secondary schools. These are connected by a ramp that unfurls around the largest of the courtyards, which is crowned by a huge 'chimney' doubling as a pergola.
The building consists of a combined structure of reinforced masonry walls and concrete walls that project towards the eaves along the entire perimeter. The truncated pyramid that covers the main courtyard is completed as a triangulated metallic structure, on which a wood frame rests...[+]
Ubicación Location
Cartagena de Indias, Bolívar (Colombia)
Cliente Client
Fundación Pies Descalzos
Arquitectos Architects
Giancarlo Mazzanti (proyectista designer), Diego Castro, Fredy Fortich, Joana Peixoto, Juan Manuel Gil, Liv Johana Zea, María Sol Echeverri, Néstor Gualteros, Rocío Lamprea (colaboradores collaborators).
Andres Corre, Christelle Tsikras, Fabio Caicedo, Jessica Jaramillo, Juliana Alzate, Manuel Gutierrez, Samir Abu-Shibab, Santiago Rincon, Stephany Zapata (prácticas interns)
Estado Status
Construido Completed
Fotos Photos
Sergio Gómez