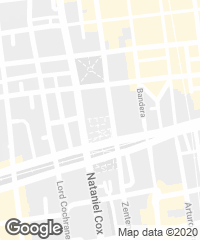 The construction of the city is a permanent and by definition unfinished process, and always a reflection of the society that builds it. As a collective creation, the city is the depositary of multiple grids and flows that sum complex and sometimes contradictory interventions. There resides, to a great extent, a city's wealth.
Projects like this one call for architects with a generous conscience, aware that, when working on layouts and fragments left by history, their freedom and innovation possibilities, to which they rightly aspire, will be restricted. This way of 'making city,' far from the logic of the 'signature project,' finds its secret reward in becoming an anonymous part of the endless transformation process of the urban fabric, and of the continuity and renovation of the historical memory.
The Civic Quarter dates back to 1930, based on the proposal of Karl Brunner, who envisioned a new space around the Palacio de La Moneda, emptying the urban blocks before the building along the north and south and shaping two squares that dignified it. The project was extended southwards through an axis ending with the National Congress, never built.
The transformation has taken place in three phases. The first competition, in 1980, proposed two types of square: one hard and triangular in front of the palace and the other, a park, surrounded it adding green to the historic center.
In 1995 another competition was held to remodel the south void of the palace. The result gave the studio the opportunity to complete the design for the Civic Quarter. The original project foresaw a new urban density that will allow traffic circulation below the square. This project, built partially between 2005 and 2010, involved recomposing the fragmented floor surface, creating a continuous level. The first step was to open a large terrace, adjoining the palace, which extends the building's interior courtyards towards the public area. This new space becomes a park-plaza with a fountain where the grass is inscribed in a strict geometry with secondary paths that create a more ludic and casual promenade. To maintain a continuous circulation and the essential connection with the axis, the project proposed demolishing the monument erected by the dictatorship, a massive structure that interrupted the historic connection between the Caja Cívica and the Eje Bulnes.
The 2012 competition to remodel the Eje Bulnes extended the project to the south, linking up with the landscaping of the esplanade and ending with two towers joining the promenade with Almagro Park.
Ubicación Location
Centro histórico, Santiago, Chile
Cliente Client
Gobierno de Chile, MOP, Dirección Nacional de Arquitectura
Concurso (1995) Competition (1995)
Arquitecto Architect
Cristián Undurraga
Colaboradores Collaborators
Taller Undurraga Devés, Juan Pablo Merino, Marcos Araya, Rodrigo Rojas, Juan Pablo Bustamante
Concurso factibilidad técnica, bases históricas y de diseño (2000) Feasibility, historical and design basis contest (2000)
Arquitectos Architects
Cristián Undurraga, Alicia Ross, Pablo Contrucci
Colaboradores Collaborators
Mauricio Facio, Víctor Jara, Mercedes Eva, Raimundo Díaz del Río, Cristián Piñeiro
Anteproyecto de arquitectura (2002) Preliminary design (2002)
Arquitecto Architect
Cristián Undurraga
Colaboradores Collaborators
Sebastian Bianchi, Mercedes Eva, Victor Jara, Pablo Lopez, Carlos Flores, Marco Barrientos, Fernando Persoglio, Francisco Farias, Marcely Morales
Proyecto final 2004 Final project
Arquitecto Architect
Cristián Undurraga
Director Ejecutivo Executive Director
Pablo Lopez
Colaboradores Collaborators
Taller Undurraga Devés, Carlos Flores, Marco Barrientos, Fernando Persoglio
Consultores Consultants
José Jiménez, Rafael Gatica (estructura structure)
Contratista Contractor
Sociedad Concesionaria Plaza de la Ciudadanía
Fotos Photos
Felipe Díaz