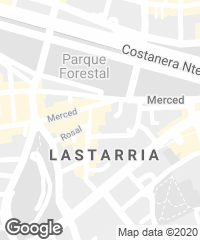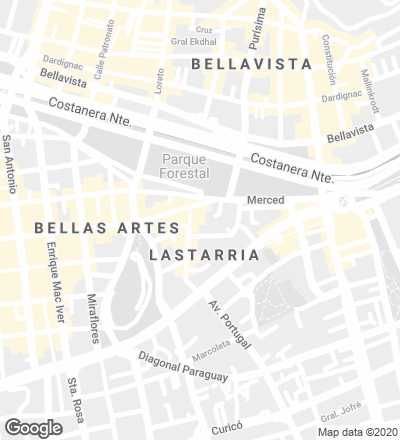 Contributing to the renewal of the historic city appears to be the most sustainable strategy to preserve the vitality of the urban fabric, resisting in this way the erosion that the unbridled growth of the peripheries has caused in the city.
The museum is located in Barrio Lastarria, close to the historic center and separated from it by Santa Lucía Hill, which was remodeled in the 19th century to create one of the most beautiful green areas in the city. The angular convergence of Parque Forestal, along the north, and Alameda Avenue, on the south, in addition to the frontier created by the hill along the south, defined precise boundaries for this neighborhood, whose triangular geometry departs from the parallel layout of the original city. Its streets are accompanied by a series of eclectic buildings that give it a unique character within Santiago. The Gabriela Mistral Cultural Center and the National Museum of Fine Arts are just a few steps away from the MAVI, turning this area into the city's main cultural hub.
In this heritage context, at the end of Lastarria Street emerges a small square, almost an anomaly that interrupts the continuity of the historicist facades of the early 20th century. The MAVI goes up at the end of this urban corner, housing a valuable collection of contemporary Chilean painting and sculpture. The small building is a compact concrete parallelepiped, predetermined by the narrowness of the site. Considering the proportion of the urban void, the height of the museum was limited so that its presence would not overshadow the old mansions surrounding it. This required increasing the area assigned to the pavilion's interiors, extending it with underground floors to accommodate the whole program.
The access is located under the entrance of the old house. This space, responding to the new circumstances, is transformed into the building's atrium. Inside, a central luminous void concentrates the vertical circulations, and at the same time articulates the different levels of the halls. These horizontal levels are organized in half floors facing each other, making it possible to fragment the exhibitions, while ascendent and descendent diagonal views offer a panoramic and total view of the space. The installations, offices, deposits, and workshops are in the old adjacent building. The repertoire of elements available to address the problem posed is significantly restricted in the project, emphasizing the longitudinal section of the building.
Ubicación Location
Centro histórico, Santiago, Chile
Año proyecto Date of project design
1999
Año construcción Date of construction
1999-2000
Superficie terreno Plot area
1.400 m²
Superficie construida Built area
1.350 m²
Superficie renovada Renewed area
950 m²
Cliente Client
Fundación Yaconi Santa Cruz
Arquitecto Architect
Cristián Undurraga
Director ejecutivo Executive director
Cristián Undurraga
Colaboradores Collaborators
Taller Undurraga Devés, Alejandro Mankewitz, Miguel García, Orlando Etcheberrigaray
Consultores Consultants
José Jiménez, Rafael Gatica (estructura structure)
Contratista Contractor
JCE
Fotos Photos
Roland Halbe