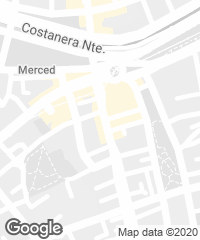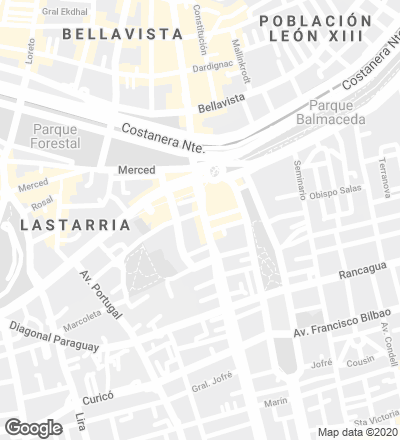 This museum was built as a tribute to Violeta Parra (1917-1967), one of the most complete and prominent figures of Chilean art. Her multiple facets (musician, poet, visual artist, ceramist, researcher, staunch defender of the people, uncompromising critical artist...) turn her oeuvre and her life into a sort of cultural kaleidoscope that combines several aspects and infinite reflections.
The building is located on the edges of the historic center, in the San Borja neighborhood, an urban area that has gone from being a model of compact city to a city of isolated towers. The terrain available, which two cultural institutions had to share – the Violeta Parra Museum and the Argentinian Cultural Center –, connects two main streets within the urban fabric. Since the studio had received the commission for both projects, building a pedestrian promenade between both seemed to be the right solution.
The compression and expansion of the facade format throughout the route creates a silhouette of variable width that controls transit times. Within this itinerary, the access to the museum is defined by a large concavity that suggests a pause en route. The main facade, which receives a soft light from the south, consists of thermopanels whose interior cavity is housed in wicker fabric, which filters in light while creating a private and protected interior space. From the outside, this wicker mesh speaks of the museum's interior world of craftsmanship.
The building therefore takes up the full length of the terrain, and its facade generates the internal street. Inside, the semicircular patio receives northern light that makes its way into the existing buildings through gaps. While the exterior facade is related to the horizontal one, the interior itinerary becomes vertical. There the curves and countercurves suggest a rich and complex microcosm that anticipates the many cultural realities Violeta Parra experienced.
A small auditorium for 100 spectators takes up the west side of the itinerary, and the exhibition galleries in two levels are on the east. The offices and archives, on the second floor, are situated between the exhibition area and the auditorium. In the outdoor zones of the second level parks extend the vegetation of the central courtyard. The idea was to have the green cover the interior facades of the patios, hiding the architecture and revealing a vegetal universe, a reflection of the humid and cold jungle of southern Chile, which Violeta Parra loved so much. 
Ubicación Location
Centro histórico, Santiago, Chile
Año proyecto Date of project design
2011
Año construcción Date of construction
2012-2014
Superficie terreno Plot area
1.690 m²
Superficie construida Built area
1.330 m²
Cliente Client
Fundación Violeta Parra
Arquitecto Architect
Cristián Undurraga
Directores ejecutivos Executive Directors
Pablo López, Soledad Fernández
Colaboradores Collaborators
Taller Undurraga Devés
Consultores Consultants
José Gajardo (estructura structure)
Contratista Contractor
Dimar, Fidentia
Fotos Photos
Roland Halbe, Felipe Díaz Max Daiber (renders)