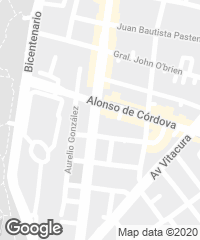 The nueva Costanera neighborhood, east of Santiago, has in the past years gone from being a garden-city residential structure to a more urban one. The old residences have opened their parks to public space, extending the pedestrian areas and including stores, restaurants, and art galleries. This, along with the new densities proposed, has transformed the neighborhood into an active urban center. The Jorge Carroza Fine Arts Gallery, specialized in art and furniture from the 19th and 20th centuries, found in this territory a good location for its venue.
The new pavilion addresses the still domestic scale of the constructions nearby. It is a sober and monolithic parallelepiped, formed by translucid quartz panels that rest on a concrete plinth that stretches towards the sides to extend the facades. This plinth is interrupted only in the access to the gallery, reaffirming the introverted character of the proposal, which has wanted to conceal its interior and reveal it only gradually.
The horizontal order proposed on the exterior facade contrasts with the vertical one of the interior pavilion, where a diaphanous light is filtered through the quartz panels, enriching the exhibition itinerary.
This project resumes the research on building envelopes using quartz panels – previously developed in the Simonetti Building – giving it greater radicalness, and suppressing any transparency that might allow relating the interior with the city and reducing this relation only to the access to the building. This extreme introversion seemed appropriate to establish the necessary distance between the silence the world of art needs and the noise of the city.
The exhibition halls, distributed in the central part of the volume, unfold in two levels and are conceived as simple boxes for different types of exhibitions. Color is the element that transforms and differentiates these spaces, depending on the character of the exhibition, marking a contrast with the simple and monochrome atmosphere of the perimeter corridors.
The underground levels contain restaurant and administration spaces. The garden brings natural light into these areas, giving them the same category as the upper floors. The lower level houses an auditorium for other cultural activities, complementing those that can be held in the exhibition gallery.
Ubicación Location
Vitacura, Santiago, Chile
Año proyecto Date of project design
2005-2006
Año construcción Date of construction
2006
Superficie terreno Plot area
600 m²
Superficie construida Built area
1.148 m²
Cliente Client
Fundación Carroza
Arquitecto Architect
Cristián Undurraga
Director ejecutivo Executive Director
Orlando Etcheberrigaray
Colaboradores Collaborators
Taller Undurraga Devés, Cristian Larraín, Eduardo Castillo
Consultores Consultants
José Jiménez, Rafael Gática (estructura structure)
Fotos Photos
Roland Halbe