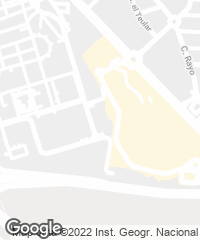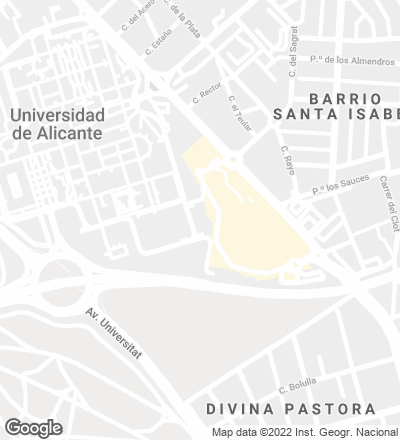 Raised in the sixties on the dry terrains of an old airfield, the San Vicente de Raspeig campus has been subject to a gradual congestion that made it impossible to increase its extension. In view of the shortage of land, the plot initially foreseen to build some industrial sheds – situated to the south of the original site – was set aside when the foundation laying had already been completed to devote the plot to a new building of classrooms. At the time of the commission, the available plot – outside the route that encircles the pedestrian area of the college campus – had a grid piling whose limited loadbearing capacity led to extending the planned program in one-story pavilions. Hence the building is separated from the ground, stressing its distance from a parking area environment which is not very appropriate for the development of academic activities.
Classrooms of two different sizes, a kiosk and a whole series of offices are arranged in seven long and parallel volumes, whose sequential organization reflects the foundation laying arrangement. The narrow distance of the bays between supports – not wide enough to install the classrooms – inspired the structural solution: concrete slabs that rest on the existing pile foundation, and cantilever on both sides to ensure adequate dimensions to house the new program. The buildings are separated by narrow courtyards, seizing part of the newly planted tree grove that separates the classrooms from their hostile environment. A partially open passage stretches across the pavilions tangent to the service and office core which is to be found in each of the seven bays. The resulting comb circulation scheme displays the interaction of solids and voids that characterizes the building. As a series of concrete walls with no windows, the south elevation increases the classroom's acoustic insulation with respect to the parking area and the traffic along the campus ring road.

The selection of all the technical and constructional solutions responds to the haste imposed by a six month deadline. Except for the aluminum profiles that make up the suspended ceiling, the locksmith and carpentry details were made in workshops from conventional wood and metal elements. The austerity of these basic masonry volumes contrasts with the playful and ever-changing effects of the aluminum vertical slats that protect the large openings from the sun, and the oriented shavings plywood cladding that encloses the service and office cores.
Tree-lined elongated courtyards separate the classroom pavilions from one another. A partially open itinerary that is tangent to the office cores traverses all the bays.
Cliente Client
Universidad de Alicante
Arquitecto Architect
Javier García-Solera
Colaboradores Collaborators
Déborah Domingo; Marcos Gallud (aparejador quantity surveyor)
Consultor Consultant
Domingo Sepulcre (estructura structure)
Contratista Contractor
Cyes
Fotos Photos
Roland Halbe, Hisao Suzuki .