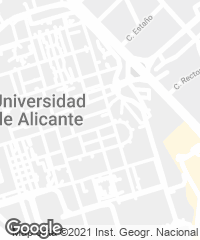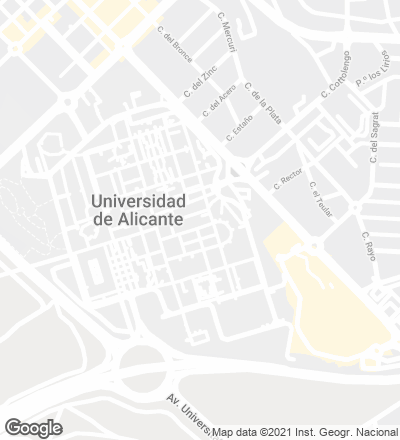 The rector's offices, opposite the central library, flank the large gardened plaza which articulates the campus.
On land that was the Rabasa military airfield rises the new campus of the University of Alicante. Like an agora, a large landscaped expanse is delimited by low constructions which defy the vertical line of the old control tower. The new rector's office, facing the main library, unfolds on one side of this elongated square, in a seemingly determined bid for horizontality. With clear-cut contours, the height is reduced by half in its southwestern third enhancing the singularity of the tower, the only element not aligned with the forum facades.

A typology frequent in academic buildings is repeated here: a courtyard organizes the uses and circulations of the building, encouraging socializing outside of class time.
The courtyard – a frequent element in educational typologies – organizes the uses and circulations of the building, and serves as a point of encounter fostering interaction between classes. The oblique position of the volume that delimits the north acknowledges the proximity of the tower, and forces both exterior and interior perspectives. The transversal piece that closes off one of the far ends prolongs in the form of a projecting terrace that throws shadows on the terse facade. Another opaque volume and the first floor catwalk cross the longitudinal axis, giving rise to a sequence of voids that differ in character. A semicircular auditorium dominates the smaller atrium, where all social and representative functions are concentrated. Administrative offices line the arcaded cloister, which the blind screen of the catwalk divides into two parts. By cropping the length of the courtyard, this device smoothens the abrupt change of height. The layout of interior spaces is determined as well by an air conditioning principle, whereby conduits are installed within the double wall that separates the corridor from the rooms. The porches, the canopies in the courtyard and the scarce fenestration on the exterior elevations are passive measures that have been taken to deal with the Mediterranean climate.

The skirting runs around the base of the building alternating stone and ceramic cladding.
The building methods are also taken from local tradition. The structure of reinforced concrete organizes the ground level of the courtyard through pillars. The exterior facades are double brick walls covered with tile dust, clad with stone at the bottom. The plinth is an element that is associated with all the circulation zones, whether in the atrium, where it is tiled, or in the galleries beside the auditorium, where the walls are clad with the same stone used for the floor. Wood paves the upper story and frames the windows. In each courtyard, a lone tree provides the only contrast to this range of sand-colored materials.

Obra Work
Rectorado de la Universidad de Alicante
Cliente Client
Universidad de Alicante
Arquitecto Architect
Álvaro Siza
Colaboradores Collaborators
Elisiário Miranda (coordinador de proyecto project manager); José Luis Perez Molina, Joaquin Solbes Llorca (apoyo local local support); Avelino Silva, Carlos Seoane, Cristina Ferreirinha, Hana Kassem, Luiz Diaz-Mauriño
Contratista Contractor
Gines Navarro, S. A (cimentaciones foundation); Constructora S. José (estructura y acabados structure and finishes)
Fotos Photos
Duccio Malagamba